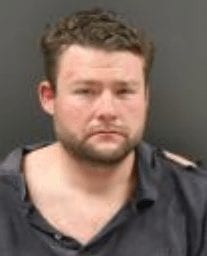 A Faribault man who repeatedly threatened to kill his ex-girlfriend, the mother of his daughter, is in jail facing multiple charges.  According to the criminal complaint, on Saturday afternoon, the victim called police to report that 29 year old Joshua William Dwyer had been texting her for days, threatening her.  Police found over 100 such texts. They were unable to locate him at the time. Just after 11:30 that night, she called police back as the texts became more violent, including 'Your dead", "I'm going to kill you tonight", "I see your house".  While officers were with her, Dwyer called her cell phone. They answered and asked to come over and speak to him. He said yes but if they tried to arrest him "there would be problems".
Dwyer's mother let them in but when they went to place him into custody, he started screaming, kicking and spitting.  He's charged with 2 counts of stalking, terroristic threats, 2 counts of 4th degree assault of a peace officer, all felonies and a gross misdemeanor for stalking. He has a previous domestic violence conviction from June of last year. Bail has been set at $30,000 with conditions. His initial court appearance is Oct. 22nd.  Dwyer has a history of drug and alcohol convictions as well.
Nfld signs with Farmington Gymnastics Club
The Northfield School Board, last night, approved a lease agreement with the Farmington Gymnastics Club.  The Northfield Gymnastics Club ended negotiations with Northfield Schools in September after a 23 year relationship.   Superintendent Dr. Matt Hillmann commented this morning, "we're disappointed that we weren't able to work it out, we certainly understand organizations wanting to go in different directions.  We wish them luck as they move forward and have nothing but positive thoughts going their way.  But at the end of the day, we had to have a place for our girls to practice and to compete this year".  The Northfield District will lease their facility beginning November 1st through February 28th for $10,000. The Northfield Gymnastics Club had proposed a 400% increase.  That, among other things, has fueled a lot of anger among parents, board members and club staff.
Cannon River expected to peak on Thursday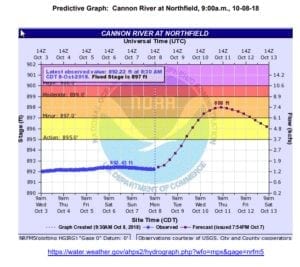 The River's on the rise.  City Staff have been working with the National Weather Service (NWS) to evaluate the rainfall amounts and, with consistent rainfall in the last few days, the Cannon River is predicted to peak at approximately 898' here on Thursday . Flood stage for Northfield is officially 897'.  If the river reaches that level, some Northfield properties and park areas will be affected. Deputy Chief Mark Dukatz said that the ground is so saturated that the water has nowhere to go but the river. As for Dundas, City Administrator John McCarthy said the area most likely to be affected would be Memorial Park and a couple of private homes, but those are more likely during extreme flooding.  The river is not expected to reach extreme flooding and this event shouldn't affect Dundas.   click for full press release and graph from the City of Nfld.    Flood – River Level Concerns – 10.08.18
"Conversations about Unspeakable Things" at Carleton
Carleton College invites the public to "Conversations about Unspeakable Things," a collaboration with the Veterans' Voices project of the Minnesota Humanities Center.  Friday, Oct. 12, visiting artist Ehren Tool will discuss his project, "The Cups of War." from 6 to 7 p.m. in the Applebaum Recital Hall in the Weitz Center for Creativity. A community dinner follows from 7 to 8 p.m. in the Weitz Center Mar-G Common Room. Then, from 8 to 9 p.m. back in the Applebaum Recital Hall, visiting poet J.A. Moad II will read from "Outside Paducah, The Wars at Home."