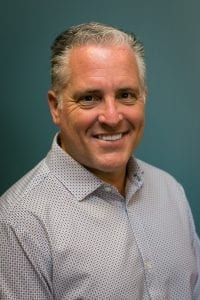 An established, local family medicine physician is joining the Northfield Clinic.
Dr. David McIntyre joins NH+C's Northfield Clinic
Family medicine physician David McIntyre joins Northfield Hospital + Clinics, caring for patients of all ages at the Northfield Clinic with daytime and evening hours.Dr. McIntyre is a native of Faribault with over 20 years' experience providing a wide range of care. He appreciates the continuity that a community-based practice offers: "The more you know a person and the context they live and work in, the better the care you can provide," Dr. McIntyre says.
"I like the idea that I'm somebody's doctor," he adds. "When someone asks, 'Who's your doctor?' I like that it's me. I've had families that I've cared for four generations of the same family. That's the best part of family medicine: I like seeing patients from the beginning of life onward, and caring for all ages."
Dr. McIntyre has special expertise in diabetes management, plus acute care, preventative health, and well-child care. He treats everything from routine care to complex, multi-problem health issues. He also performs joint injections and minor skin surgeries.
Dr. McIntyre earned his medical degree from University of Minnesota School of Medicine and completed his residency at U of M's Methodist Hospital. He is board-certified by the American Board of Family Medicine.
Dr. McIntyre's clinic schedule includes evening hours on Mondays, to 8:00 pm.
To make an appointment with Dr. McIntyre in the Northfield Clinic, call 507-646-1494. Learn more at https://www.northfieldhospital.org/mcintyre-david-md.