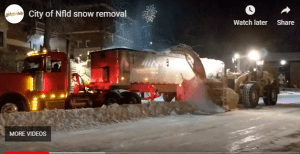 With the shear amount of snowfall, removing it from downtown Northfield is a big job that requires a lot of coordination.  For 19 years, Steve Malecha of the City's Streets department has driven the big snowblower responsible for loading up the snow piles into the semi's.   Starting at midnight last night, using 7 semi trucks, he filled 16 loads of snow EACH so that we'd have parking spots downtown! I had a chance to go on a short ride along, check our website and Facebook page to get a bird's eye view.  Click HERE for the video
Rice County Sheriff Troy Dunn commented yesterday on the rural roads and trying to take care of them.  While the City and County use a salt/sand mixture, the Townships gravel roads are not treated with salt.  It deteriorates the road.  He added that that's something he never knew.  You will still find some snow compaction and icy spots so leave plenty of distance between vehicles and stay well back from plow trucks. Dunn added that they had their first snowmobile crash where one rear-ended another and sent 2 to the hospital with broken bones and concussions despite having helmets on.  
ADU's and Hwy 246/Jeff Pkwy
The Northfield City Council meeting scheduled for Tuesday was cancelled.  It's been moved to February 12th. Two items of interest include revising the Accessory Dwelling Unit regulations and Initiating a Request for Proposals (RFP) for the TH 246 and Jefferson Parkway Project that could include a roundabout and pedestrian crossing.  You can comment online on the City's website till noon on the day of the meeting.  CC mtg 2-12
Nfld. Planning looks at Workforce housing and senior living possibilities 
Northfield's City Planning division is also working on several proposals for new apartment buildings. One proposal is almost ready for Site Plan review. This is for 28 units of workforce housing on Maple Street at the southern border of the City. Another proposal is under conceptual review and is expected to submit application yet this spring. This would be a 72 unit senior independent living facility next to the Mosaic apartments. It would be the first phase of a four-phase development including apartments, townhomes and senior assisted living.
Olson honored with Outstanding Leadership Award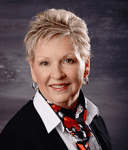 Kathy Olson, Executive Director of Millstream Commons Assisted Living in downtown Northfield, was named as the recipient of the Kal Michel's Outstanding Leadership Award by Leading Age Minnesota on Wednesday.  The prestigious award honors a leader whose impact is demonstrated through vision, servanthood, mentoring others and commitment to older adults. Olson began at Three Links Care Center in February of 2000 as Co-Director of Staff Development. In 2005, she became the Executive Director of Millstream Commons. Over the years, Kathy has been very active with LeadingAge Minnesota, an association dedicated to transforming and enhancing the experience of aging.  See the full press release on kymnradio.net under Community News tab.