First they were 2 hours late, then they were closed.  The 7th closure since the polar vortex. Northfield Schools Superintendent Matt Hillmann called it at about 8 this morning when reports of blowing snow and unplowed roads were making driving difficult.  Rice Co. Sheriff Troy Dunn reported vehicles off the road and a few minor crashes. Northfield Deputy Chief Mark Dukatz was helping with traffic on Hwy 3 northbound near the Ballroom after a vehicle went into the ditch after a small tangle with a plow truck.  No injuries
were reported in any of the crashes. But it's a good reminder to stay well back from plow trucks. Don't overdrive the conditions. The City of Northfield declared a snow emergency this morning. Go to our website for complete information.
Woman stuck on RR tracks is hit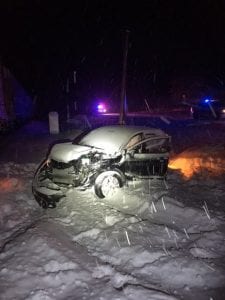 The Dakota County Sheriff's office received a call this morning just before 5 o'clock about a car stuck on the railroad track by Ravenna Trail and Polk Avenue around Hwy 61 east of Hastings. While enroute deputies requested that dispatch contact the Canada Pacific Rail to have them stop all trains on that track. KYMN spoke with Capt. Schroeder who said there were three bystanders there trying to push the vehicle off the tracks while the owner of the vehicle was inside. However, it was just about a minute from contact with deputies to trying to alert Canada Pacific Rail when they learned a train had hit the car. Fortunate for the owner, she only received minor injuries.  Schroeder said the area is rural and visibility was low. They heard the train whistle. The bystanders had the vehicle nearly off the tracks and the train struck the front corner. If it weren't for those stopping to help, there might have been a different outcome for the driver. The Department is searching for the names of the bystanders to honor them.
Local artists chosen for Information kiosk design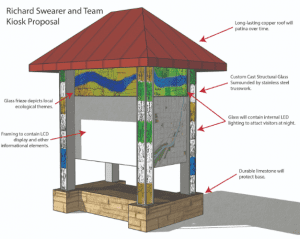 In 2017, the Northfield Council approved setting aside 1% of eligible capital projects funded by the City for public art.  The money collected from last year's Division Street project will be used at 6th and Division. Arts & Culture Commission Chair Alyssa Herzog Melby explained they could've chosen creating seating, decorative crosswalks but the committee felt that "way finding" was important.  For visitors and residents to know where things are and what's going on.  So they quickly zeroed in on an informational kiosk.  Functional and practical, the frame is the artistic piece.  The ACC had 15 statewide submissions. That was narrowed to 3 who were then give a small stipend to further "flesh out their idea" and present to the Public Art Review Committee.  Local artists, Nick Swearer, Keeny Swearer and Howie Osterue, were chosen for their design that captured the essence of Northfield with the river "actually going through the glass".  Herzog Melby said it speaks to the City's natural environment.  The goal is to have it installed in September.  For a rendering of what it will look like, click on this link from the Northfield Library.  
Draheim introduces Optional DL bill and transparency on medical statements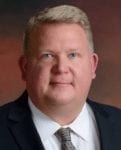 District 20 Senator Rich Draheim introduced a bill last week regarding an optional drivers license notification.  He explained, "where if a parent of an autistic kid or maybe someone with a mental illness who wanted to have something on their driver's license so if they get pulled over it would be a communication tool between them and law enforcement".  He also put forth bills regarding transparency of medical fees and bills. One of which addresses the acronyms and what they mean.  He said, "what I've heard from constituents is that they might get 4 or 5 statements, they don't know what half of the acronyms or abbreviations are on the statement so I'm trying to work on having the hospitals make it a little more in plain English so like a 7th grader could understand it".  Draheim has hope for all of the bills though he's getting some pushback from Hospitals.  He added that all the bills are bipartisan.