A 58 year old Cannon Falls man is dead after crashing his vehicle on Hwy 56 at Mile Post 84 in Warsaw Township.  Around 11:30 last night, Scott Theodore Friedrich was traveling northbound in a 2001 Chrysler town and country van when he lost control on the snow and ice and rolled into the ditch.  He was not wearing a seatbelt. Troopers were assisted by Goodhue County deputies.
Dennison man sentenced in CVO case
A Dennison man was sentenced to a year in prison yesterday after pleading guilty to Criminal Vehicular Operation. Last October, a drunken 23 year old Cody Raymond Kadrlik, dragged his fiance around the Walmart parking lot as she attempted to retrieve their infant son from the vehicle. He then came to an abrupt stop wherein she was thrown from the car.  Kadrlik was given work release and 3 years probation.
RFP's sought for Roundabout at 246/Jefferson design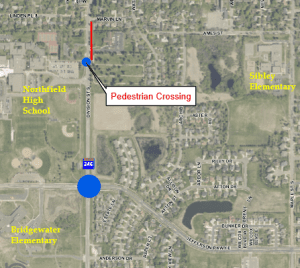 With grant funding, the Northfield Council is moving ahead with a long awaited move to improve pedestrian safety at the intersection of Hwy 246 and Jefferson Pkwy.  After multiple meetings, consultants and public engagement, the Council chose a roundabout in 2017. This week, Mayor Pownell said the Council approved Requests for Proposals. Pownell said, "so this is getting the actual intersection designed so potentially we can get it built in 2020".   Administrator Martig commented that there are some intricacies involved in the design and they want to look at putting in 4 underpasses, one in each direction.  They'll also look at creating a safe crossing on Division St. at the High School across from the cemetery.  The City received a little over $1.3 million in grant funds for the project. There will still be costs, in particular for the underpasses, which the City could levy for.  He added that, with 3 schools, the NCRC, the CAC near and churches, "it's a very important area for pedestrians so we need all users to feel safe and designed in a way that's really smart because it's going to be there a long time".  1- Project Location Map    2 – Request for Proposals for Jefferson Parkway Roundabout    3 – 191205 TH246 Roundabout RFP Presentation
ALC works on steps to boost graduation rates
The Area Learning Center 4 year graduation rate dropped to 59.2%.  Northfield School Board Chair Ellen Iverson said they heard a report from the ALC this week. Iverson said, of note is that students attending ALC are at risk for graduating to begin with.  Students may have been expelled from somewhere else or have a parent with drug-related issues or any number of reasons that would make them way behind in credit recovery.  Iverson said the District has developed a matrix to determine, based on credits they have when enrolling in the ALC, how realistic it is that they can graduate in 4 years.  They then develop a plan. Some possible steps include software programs for independent study in addition to the in person class time.  She said it's been a big help for those "on the bubble" for graduation.  Schools that aren't reaching the graduation mark of 67% receive help from the Regional Center for Excellence. While they did not attend the School Board meeting, they DID say they are pleased with the strategies the Northfield District is using and are asking Northfield to be a resource for other ALC's.  The Northfield ALC draws students from Morristown, New Prague, Faribault and more. 42% of students are from Northfield.