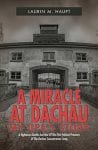 Author Laurin Haupt talks about her recently published book, A Miracle at Dachau.  In her book, Laurin tells the riveting story of her grandfather (her Opa) and his time in the Dachau prison camp.
The Wayne Eddy Affair:
Through more than 50 years in broadcasting, Wayne Eddy has been a champion of hometown radio. His voice launched KYMN on September 27, 1968, and for the next 34 years he served as owner, manager, and morning host. In 2007 he was inducted into the Pavek Museum Hall of Fame. He retired in 2002, but couldn't stay away for long. Since 2006, the Wayne Eddy Affair can again be heard every weekday. Monday through Thursday, 9-11 a.m. & Fridays 10-11 a.m.
Program Archives...