Ten days… ten days of no school due to storms.  From the tornadoes in September to the record cold in January and record snowfall and blizzard in February, what does it mean for Northfield School District students?  The Board and Superintendent Matt Hillmann built in nine days above what the state requires. Before this Winter, the most they've used since recording, is four. Northfield planned on piloting their Flexible Learning Days this year, believing they'd use one, maybe two.  They've used 6, so far. At the Board meeting this week they affirmed an unprecedented "Winter Weather Plan" that says if they have 4 more school cancellations, those will be Flexible Learning Days.  So, the bottom line is,those days count.  However, if there are more than 4 more weather days, then students would have to come back at the end of the year.  Hillmann said
they continue to assess the Flexible Learning Days as students and parents get used to it, but so far, the feedback has been good overall.  KYMN wants to give a shout out to those School Bus Drivers for keeping the kids safe. It's bus driver appreciation day today.
Early mornings/long nights – City plow drivers put in the time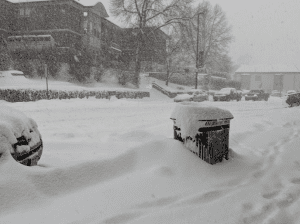 Speaking of record snowfall, Northfield Streets and Parks department Manager Tim Behrendt joked that they may start selling lift tickets for the 30 foot pile of snow behind the Street shop on Bollenbacher Drive. Behrendt, speaking of the City plow drivers, said there are mornings they're up at 2 in the morning and in to work by 3 and plowing.  This morning they had 2 guys in at 5 o'clock to clear the mainlines and salt.  It takes one driver 12 plus hours to plow from 6 to 8 inches of snow.  The downtown snow removal is quite a process involving about seven semis. So far this year, they've hauled about 170 truckloads out.  Behrendt said they're taking bets on how long the piled snow will be there into summer! They've hauled some snow to the compost site but they don't want too much out there as that opens in the Spring.  The protocol for plowing and declaring a snow emergency is 2 inches of snow. Under 2 inches, they'll run about 4 trucks to plow the larger mainlines and salt.
Dundas oks architect for City Hall
The Dundas council received 10 responses to their RFP's for Architectural Services for the new City Hall.  Administrator John McCarthy said they chose TSP out of Rochester. The plan was to renovate the entire block of Railway St. from Mill St. to Bridge St., but McCarthy says, for now, they'll just focus on a new City Hall.  They want to leave the rest of the property open for future commercial development.  They asked the architect to respect the historic, small town look.  The City would like to see construction begin this year but first the design process has to be completed.  
Sen. Smith reintroduces bill for "Atomic Vets"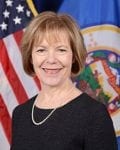 Senator Tina Smith is reintroducing a bipartisan bill regarding legislation to secure health care benefits for "Atomic Veterans".  From 1946 to 1958, the U.S. military conducted dozens of nuclear testing in the Marshall Islands.  When the test were done, "service members went onto the island and did clean up".  They were in t-shirts, shorts and combat boots cleaning up radioactive material.  She said, "cleaning up soil and debris and other stuff".  Today those Vets are suffering from a myriad of illnesses including cancer.  These soldiers never got the special benefits for veterans involved in nuclear testing as those doing the tests did.  This bill would make sure these Veterans receive those benefits. The bill did not pass last year but Smith says, there's strong support in the House and Senate and she believes it will get done.