An Owatonna woman pled guilty Friday to 2nd degree arson.  In a 2 ½ year old case, 33 year old Jennifer Dawn Marx pled guilty to setting the fire that killed her boyfriend's dog.  On August 9th, 2016, Rice County deputies were called to a fire around 4am near Fox Lake in Forest Township. The fire started in a basement bedroom where Marx and the homeowners adult son were believed to be sleeping.  The son had left the home to sleep elsewhere. Marx told law enforcement that she went out the window to get help. However, 911 wasn't called until nearly 2 hours after the fire reportedly started. The family's teenage son was awakened by smoke and alerted his parents.  The mother tried to get into the locked bedroom, throwing herself at the door but couldn't' open it. Unable to get in touch with him by
phone, she thought he had died. Marx later told a friend that she deliberately started the fire to get back at her boyfriend and kill his dog.  The body of the dog, Kane, was found in a locked closet. After her 4th failure to appear in court, she was arrested December 26th and has been jailed since. Sentencing is set for March 21st.  Marx-Ohm complaint
Lippert backs new grain incentive for farmers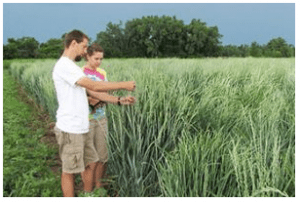 Kernza is the trademarked name of a perennial wheatgrass the Land Institute has been fine-tuning along with the University of MN as they work to provide incentives to farmers to plant crops with the potential of enhancing the soil rather than depleting it.  Representative Todd Lippert is carrying the torch set by former Representative David Bly, specifically, for well-head protection areas as it "greatly" reduces nitrate levels in the water.  Kernza is on the edge of commercial viability with General Mills wanting to build a processing plant. Lippert says Pepsi Co is also interested.  There are already small brewers using it for beer. As a perennial with about a 5 year lifespan, Kernza doesn't deplete the soil of nutrients as corn and annual crops do.  Lippert says it's a, "win, win, win" in multiple directions.  Part of the focus is to provide economic opportunity for farmers and solve some environmental issues.  Kernza information from the Land Institute    Kernza collaborators
ThreeLinks awarded state funding
New efforts that improve the quality of life and care for residents of nursing homes will receive $6.5 million over two years through funding from the Minnesota Department of Human Services.  Locally, Three Links Care Center will receive approximately $109,000 in state funding over the next two years through PIPP. The Performance-based Incentive Payment Program allows nursing homes to earn performance incentive payments for dedicating resources to a variety of issues.  Three Links will use the dollars for behavioral health needs. PIPP is providing funds to 74 nursing homes throughout the state.
Sidewalk Poetry contest extended
The Northfield Arts  and Culture Commission extended the 2019 Sidewalk Poetry competition "New Voices / Nuevas Voces." Due to the extreme weather conditions in recent weeks, the contest deadline has been extended to Friday, March 29 th , at 6 pm at the Northfield Public Library. For the first time this year, entries may be submitted in English and Spanish. For contest rules, visit the Sidewalk Poetry page of the Arts & Culture Commission on the City of Northfield website.