Dundas has questions.  A lot of them. The City Council this week, approved a resolution to ask NAFRS, Northfield Area Fire & Rescue, questions regarding possible changes to their service area with the possibility of Bridgewater Township becoming a city and building a housing development and the proposed new luxury Wolf Creek Autobahn and it's 300 condos out by I-35 and Co. 1.   Mayor Glenn Switzer asks, "do we need any extra equipment to go
to another race track?  Do we have to be there when they're racing?  How is the water?  They're not putting in a municipal well so where's the water coming from?  Will we need to purchase another tanker truck to service that area?  There's all these questions about how does that actually happen, how do we provide services and that's the NAFRS and there's been zero conversation".  Part of the current agreement NAFRS has with Elko Speedway is that they provide Rescue Services.  The original NAFRS Joint Powers is made up of the Cities of Dundas, Northfield and the Rural district of 7 townships including Bridgewater, Switzer said, "and we're each signed in as a government agent or a government municipality.  So when, if there is a change, in the township, how will that document have to be changed?  Because if they're no longer the township, then they're no longer a valid signee so that has to be dealt with.  There has to be some conversation about that".  The resolution will now go to the NAFRS Joint Powers Board.  Click to read the entire resolution:  Dundas-NAFRS-resolution-07d-Resol-2019-12
Overnight refreeze creates ice rink in Keya Paha
A Northfield school bus went into the ditch on Canada Avenue this morning as rural roads turned icy overnight. Benjamin Bus's Jenna Dardis said there were no injuries and the children were about 20 minutes late.  However, the Keya Paha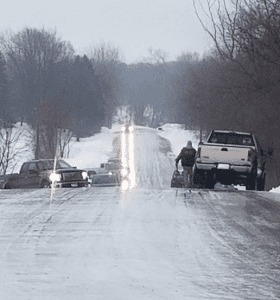 neighborhood was a different story. After speaking with Webster Township Supervisor, Roger VanVeldhuizen, Dardis didn't send buses out on that gravel road. The Township pulled the salt truck off the road as it was an ice rink.  Last night several vehicles went in the ditch. Superintendent Dr. Matt Hillmann said is an excused weather day for those children unable to make it in to school today. Be prepared for icy conditions tomorrow morning as well between rain and melting snow during the day and refreezing overnight. KYMN will be notified whenever the buses won't run.
Faribault citizens offered sand/bags 
The City of Faribault will be providing sand and bags to residents if and when flooding occurs. Fire Chief Dustin Dienst said, "If sandbags are needed now because of a localized flooding event (backyard flooding into a door in a walkout basement for example)", contact the Faribault fire department and they'll help you get what you need. The latest flood "situation report" from NOAA courtesy of Chief Dienst:  MPX-SitReport1_03_13_2019_725_50
Township elections
Bridgewater:
Bridgewater Township Supervisor Glen Castore reports in the election yesterday, that Deb Salaba is the new Treasurer as Brad Pfahning chose not to run for re-election.  Supervisor Gary Ebling ran unopposed. The Board of Supervisors meets tonight beginning at 7 o'clock at the Township Hall in Dundas.  Meetings are open to the public. The townships next incorporation meeting will be held Saturday, April 13, 1 to 3pm at Little Prairie Church.   
Northfield:
In Northfield Township elections, Brian Peterson was re-elected Supervisors.  He ran unopposed. In the Treasurer contest, Jessica Hubers received 35 votes to John Zimmerman's 32.  Karen Zimmerman retired after 38 years as Treasurer.
2019 Northfield street project Open House
The City of Northfield is in the final design phase for the 2019 street reclamation project, including the 3rd street corridor.  They are inviting residents, businesses and tenants to learn more about the project tonight at an Open House style meeting at City Hall.  They'll discuss potential tree removals, sidewalks, public and private utilities, preliminary assessments, lighting, landscaping and the anticipated project schedule.  The doors are open from 5pm to 7pm.