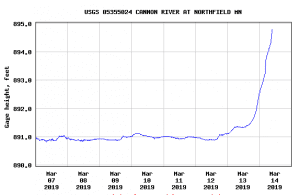 The Cannon River has risen about 4 feet overnight.  We are sitting at about 895 feet which is high but not flooding.  The good thing, says Northfield Police Chief Monte Nelson, is that the temperature will be dropping tonight, which slows the thaw.  The biggest issue right now is residential flooding. He says citizens should check your landscapes and foundations for pooling water.  Check your sump pumps. The City has bags and sand
available for emergency use.  Please call the Streets Department at 507-645-3045 or, after hours, call the Police Non-Emergency line at 507-645-4475. Nelson also asks that you report dangerous or extreme flooding to the Streets Dept. or the police. The full press release with more information, including a warning to businesses along the Cannon to be prepared for the next month, is on our website kymnradio.net.  Be sure to sign up for alerts through the City's website. Also, Northfield Shares will be assembling a list of persons and groups willing to help with sandbagging efforts if the need arises during this Spring Flood Season. Go to https://northfieldshares.org/.  Faribault is also offering sand and bags to their citizens.  
Flood warnings and road closure south of Faribault
The National Weather Service has issued flood warnings for Rice, Goodhue and Dakota Counties till 10:15 tonight.  A few rural roads were flooded near Dennison, and some areas had standing or flowing flood waters.  Rice County Sheriff Troy Dunn reported just before 11 this morning that Co. Rd. 93 south of Faribault is closed with 3 to 4 feet of water over it.  Until the runoff is complete from snow melt and rainfall over the past two days, flooding will continue in the warned areas. The National Weather Service predicts a drop to 893.5 feet by next Tuesday.   Since this past Tuesday, rainfall amounts of 1 to 1.5 inches has fallen over the warned area, and snow has melted significant as temperatures have risen above freezing.
Nerstrand Fire Hall on hold for the moment
The Nerstrand City council met this week to discuss the Fire Hall project after bids came in considerably higher than anticipated.  Mayor Jerrod Alvarez said they had 4 bids total, adding that they have the option to reject the bids and rebid with specifications that would take out the plumbing and sewer hookup for the time being, however, they first need to verify that the bonds would still be approved for the building without those utilities.  Alvarez said the Council will discuss whether to rebid the project at either their April or May meeting. If things fall into place, they could have the building built with just electricity and then do more fundraising for sewer and water.
Dundas development includes City Hall and Kwik Trip
Dundas will be getting a new City Hall this year. City Hall is a 2019 project.  They chose architect Von Petersen of TSP out of Rochester. Mayor Glenn Switzer commented that they'll hit on the historic nature of the downtown saying, "that's pretty exciting".  Adding that, at the same time, giving them a modern, functional building.  The space will be near Young's Paint Center on Railway St.  The idea being to fill in the rest of the space with other development.  They hope to hold a kickoff meeting in the next week. The budget for the facility is about $1.4 million. There will be approximately 3,000 sq. ft on the first level with a 2nd story planned.  And Kwik Trip will be coming to Dundas in 2020 near Menards. Switzer noted that at the Monday night Council meeting they platted and approved preliminary plan, site plan and moved it to the next step forward.  He said there's a few things that will resolve regarding traffic flow issues, pedestrian issues and making sure that everything's connected, multimodal.  It's "moving forward".