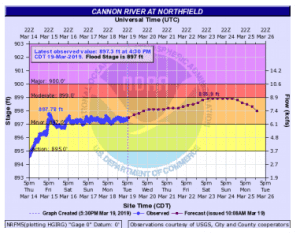 The City of Northfield and the National Weather Service – Chanhassen (NWS) are urging all Northfield area property owners in flood prone areas to start taking action to protect their property.  The NWS has placed the Cannon River at Northfield in an elevated flood risk through the Spring Season.
According to the NWS, fall ground water conditions, heavy snow amounts, and other factors create a 60% chance the Cannon River in Northfield will reach Major Flood Stage this Spring. Numerous factors will affect flood risks including temperatures, rate of thaw, rainfall amounts and other influences. The river level is expected to stay very high through the Spring season, regardless of rain amounts.
See the NWS Cannon River Level at Northfield predictive info below.  There is also links to other resources and to Northfield Shares for volunteering.