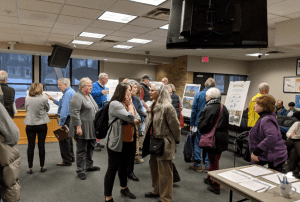 Seems a lot of citizens were interested in learning more about what ADUs are.  The City of Northfield held an Open House last night regarding Accessory Dwelling Units as the Planning Commission recommended a, sort of carte blanche, in allowing them to bypass many of the regulations for building.  It might be easier to say what they aren't, which is just tiny homes. ADUs can be attached, detached from the primary dwelling. They can be above or below and, as for what the Planning Commission recommended, they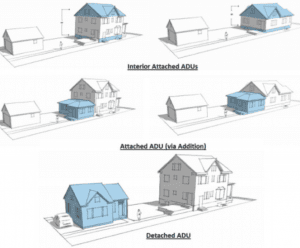 could be taller than your home and not have to conform to neighborhood style, have a parking space or adhere to the 20% rental rule. While the majority of the people attending felt the "idea" of ADUs is good, they were concerned about regulating them.   The idea from the Planning Commission was to loosen rules to allow for affordable housing. Resident Cliff Clark, who agrees Northfield needs housing, said, "I think the cost of housing at this point, even to build an accessory unit is quite high, so we're really talking about moderate income people not low income people".  He was also concerned about the no parking spot required since Northfield has no on-street parking during the winter. He's also in favor of owner-occupied dwellings, meaning they either live in the main house or the ADU, to keep the quality of the neighborhood up.  As a member of the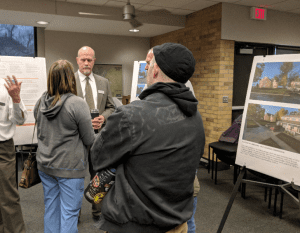 HPC, he's also an advocate for conformity to the area architecture. Councilor Grabau commented that she heard from people living in Viking Terrace that would like to move to an ADU.  As for affordability, she said, "I agree, it's not going to be cheap but I do think it will be less expensive than building new housing, right, because we're using existing infrastructure that's already there as opposed to laying new roads, laying new pipe".  The issue is that a homeowner would be the one to choose to build the ADU unless they allow for non-owner occupied facilities.  Then a company or individual could buy a home, build an ADU and rent both out. She said local business owners are busing workers in and this could be part of the solution adding, "I'm supportive of the primary dwelling be owner occupied and I do think that the ADU should be smaller than the primary dwelling both in height and in footprint".  But she doesn't want to add a whole lot more regulations saying that would render the ordinance "useless".  This LINK will take you to a number of ADU information links from the City of Northfield.  Council will be taking this up at their April 9th work session.  Alice Thomas did a lot of research on regulations around the Country and around the State regarding ADUs and has sent that information to KYMN.  It is attached here.  MN-Cities-ADU-composite  US-Cities-ADU-composite
City-Planner-Tempel-Feb.-report
Less trash?  Smaller cans available
If you don't generate a lot of garbage, you can now get a smaller trash can.  DSI is now offering a 20 gal. can to Northfield residents. Northfield Council set the rates at their meeting this week.  City Administrator Ben Martig said, "we have a lot of people in that 35 and 64 gal. option so if you are able to reduce your waste a little bit and move down to a smaller container size, you can do that at a lower cost". Many residents are recycling more and don't need the larger trash bin, however, with that increase and a bimonthly recycling pickup, they've added a 95 gal. recycling container. Call the Northfield Utilities Dept. at 645-3015 to request the change of service.  The 20 gal. container will be $11.10 a month. They've also added a seasonal carted yard waste pickup to begin sometime in April. The proposed rate for this is $7.50 a month.  The City will be doing some more informational pieces for residents.
Callery wins State Poetry Out Loud contest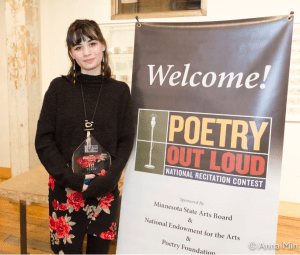 A senior at Arcadia Charter School won the State Poetry Out Loud competition on March 7th.  Reciting four poems, Bella Callery competed against other students from across the state for the first place position. She and Anna Kochevar, another Arcadia student and the 2018 state champion, advanced to the state contest held at The Loft Literary Center in Minneapolis.  Callery will compete at the National Poetry Out Loud competition in Washington, DC on April 30 – May 1.  Poetry Out Loud is a program sponsored by the National Endowment for the Arts and the Poetry Foundation.  Students were judged on accuracy, physical presence, voice and articulation, dramatic appropriateness, and evidence of understanding.  Arcadia has participated in the Poetry Out Loud competitions for years and has sent many students to the state competition. This is the school's second time sending students to the National Poetry Out Loud competition.