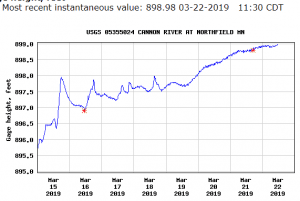 The Cannon River in Northfield was at 898.98 ft. at 11:30am, 899 ft is moderate flood stage.  The National Weather Service defines 900 ft as major flood stage. Froggy Bottoms River Pub on the west side has closed for a few days.  The NWS expects moderate flooding and then a drop in the River but Police Chief Monte Nelson has cautioned that these conditions will be a part of the community into April.  He also reminds people to stay off the sandbags
and out of barricaded areas. Spring rainfall will also have an impact. There were 2 historic crests over 901 ft. both of them on September 24th, one in 2016 and the other, 2010.  Northfield Shares is organizing volunteers to fill sandbags and place them. They also want businesses to be aware that, if they need help, to reach out. You can volunteer online at northfielshares.org this is a direct link to the volunteer page.  there's also an email address for businesses to request help.  
5 years for drugs and arson
An Owatonna woman was sentenced yesterday to 18 months for a 2016 arson fire that killed a pet dog.  Rice County Attorney John Fossum said 33 year old Jennifer Marx was allowed to plead down to 2nd degree arson as she had a first degree drug charge as well, which carries a longer prison term.  She was sentenced to 65 months on the drug conviction. The sentences are to be served concurrently. She was also ordered to pay a $1,000 in restitution. She'll serve her sentence at Shakopee Women's Prison.  
Nfld Cultural Plan infusing creativity
Northfield's Cultural Plan was adopted this week.  Committee Chair Alyssa Herzog Melby gave the Council an overview of their process in creating the Plan.  Having looked at a myriad of plans, they broadened the idea of public art, which could include residents and businesses decorating for holidays. The committee heard from other communities who have infused creativity into many areas not often thought of in that way such as inviting the choreographer into thinking about what a new park could look like, having them there at the table to consider how people move through the space and interact.  An artist can bring about solutions never thought about before. Mayor Pownell commented that the report showed $2.2 million is generated by non-profits in the arts and culture sector each year, not including all of the events that happen in the community.  The plan is the culmination of many community members over the years adding their creativity along with the committee members and Northfield city officials.  1-Nfld-Cultural-Plan1
Foodshare Month!
It's Minnesota Foodshare month and Anika Rychner from the Northfield Community Action Center said over 300 food shelves across the state participate, adding that it's a critical time as foodshelves can become bare after the holidays and they need to resupply for children out of school.  This year they became a Super Shelf adding fresh food, healthier options.  Part of the project was a walk-in freezer/refrigerator that was gifted to them by a grant from the MPCA written by Carleton.  It reduces waste and allows them to offer fresh, healthy foods longer. The CAC is taking donations of food and cash. Go to communityactioncenter.org