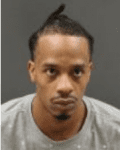 Deandre Dontal McGowan is now in Federal custody. McGowan is charged with robbing Premier Bank in January.  The 33 year old suspect is accused of using force to steal over $11,000 in cash from the Bank on January 15th.  He was charged in Rice County on January 21st with 1st degree Aggravated Robbery and multiple charges of 2nd degree Assault with a dangerous weapon.  He and another man, who remains at-large, were both reportedly carrying handguns. Law enforcement were able to track McGowan down using surveillance and other agencies.  In McGowan's Bloomington apartment, law enforcement recovered his cell phone,
which had a google search of Premier Bank and the reported getaway car, driven by McGowan, was in the parking lot of the apartment complex.  Inside was the purse of one of the bank tellers. Rice County no longer has jurisdiction over the case. KYMN will continue to monitor the case.McGowan Complaint (1)
Ice, sleet, white-out and a warning
Icy, sometimes white out conditions.  Semis, cars and trucks in ditches across the State, power outages, cancellations and frustrated weather forecasters.  It's a mixed bag and that snow out there is a bit like cement. Rice County Sheriff Troy Dunn was responding early this morning to crashes and Northfield Police Chief Monte Nelson stopped by KYMN to tell folks not to drive if you don't have to.  He said it may look okay out there but the rural areas are experiencing white-out conditions still. With a mix of snow/sleet/ice and wind, Nelson said, "this entire system has played out in a way that it hasn't played by the book, it hasn't done what the weather people said.  They know in general we're going to have additional moisture for the next 12-24 hours, I don't think we will know until we look out the window and see it".  He added that this morning was the first time he's plowed snow while it was hailing (not sleet) and thundering and lightening.  Forty to fifty mph sustained winds will be a problem through tomorrow. Bottom line, stay home if you don't have to travel, call ahead if you have an appointment.  Check our website for cancellations. Northfield has a snow emergency which means you cannot park on city streets overnight until streets are cleared curb to curb.  Roads are open now but not cleared completely. Tonight crews will work to clear downtown Northfield. Nelson's full interview is on kymnradio.net.
Miles of roads, sidewalks and trails and then there's downtown
Ironically, the Northfield Council discussed snow removal at their Tuesday work session. And then, yesterday afternoon, a snow emergency was declared.  Administrator Martig commented yesterday morning on the volume of roads that Northfield City workers must clear.  There are 87 miles of "center lanes", 126 cul-de-sacs, 31 miles of trails and sidewalks about 2.7 miles of downtown removal, "which is a little trickier".  They do that with 6 streets and parks employees and 2 utility employees.  One mechanic who tries to keep all that equipment working. The goal for removal is 12 hours at the end of the snow event.  Then another 24 hours to get the downtown cleared curb to curb and then the trails. This year has pushed them to the max. A survey went out to the public on Polco and they found that, "in particular the on-street parking in the downtown, Division St. and some of 5th St., we know that there's a lot of coffee shops and restaurants and retail, we really get kind of jammed in with parking".  They might look at bringing a blower in to blow out the parking stalls quicker and then come back later for curb to curb.   Council also discussed possible ways the City could help clear driveways.