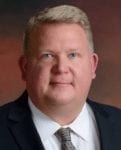 The big news is that last night the Minnesota Senate and House agreed on a budget before the deadline tonight, with compromises on both sides. Some major issues that required compromise are the gas tax that Governor Walz wanted being dropped and, on the Republican side, concessions on the Healthcare Access fund, which has been a 2% provider tax; this was reduced to 1.8%. District 20 Senator Rich Draheim said the money will be directed to, "…medical assistance programs. Right now it's been in a slush fund. In fact, in the last three years, only 13.3% of the hundreds of millions of dollars collected went to what it was intended for." The Republicans wanted the tax eliminated completely. Draheim said the
biggest thing for him was the middle income tax reduction, which will be seen on this year's taxes. He did say there will still be a special session as the House Health & Human Services Bill is 1200 pages and, while staff and legislators are putting in a lot of hours, agreement on what stays in and what does not won't happen by today's 5 p.m. deadline. Speaking of the House, Draheim added that there's quite a division among the Republican and Democratic parties. He said, "…and like for the bonding they need 60% of the votes and I think they'll have a hard time getting that over there for both sides of the aisle. So that's probably one of the stickier points and then the provider tax is another one." Some have predicted this will require only one day while others predict at least five days of a special session will be required. There is much more to Draheim's interview on kymnradio.net. We hope to be talking with House Representative Todd Lippert tomorrow morning at 7:20 a.m.
Mayor may relent on charter amendment
For two years, the Northfield Charter Commission has been trying to amend section 3.8 of the charter that would require the mayor to report to the city council on city operations, including neglect, dereliction of duty, and waste on the part of city officials once per term. Currently there's no timeline referenced in the charter. Chair Lance Heisler and member Peter Swift met with Mayor Rhonda Pownell, who has resisted the amendment but Heisler reported at last week's charter meeting that she plans to fulfill it by implementing an operational audit. The mayor will be presenting the idea to an employee committee. As the commission discussed ideas, it kept coming back to implementing a timeline for the mayor to report to council and how to enforce it. Swift thinks the mayor's attitude has changed toward the amendment and she now acknowledges the need for the change to the charter. Charter meeting notes will be available on the city's website later this week.
Northfield Strategic Plan and Accessory Dwelling Units (ADU) ordinance updates

The Northfield City Council heard an update from newly hired Program Coordinator, Beth Kallestad, on the actions taken so far in the Council's Strategic Plan. Administrator Ben Martig commented that they're nearly halfway into their three-year plan. He said of the 33 projects, the fire station is nearly complete and there's just some minor landscaping left. The bike/pedestrian trail plan was approved which allows the city to move forward on the Mill Towns Trail. The council has also made progress on climate change impacts. They had hoped to move more quickly on the ice arena. With a new arena voted down last year, the council still has to figure out what to do with the current aging facility. This item on the strategic plan has been red flagged. Council meets tomorrow night; on the agenda is the Accessory Dwelling Unit (ADU) ordinance. This is the third time this ordinance has come back to the council for further discussion. eComment is open on the city's website now through noon tomorrow for the public to express their opinion. Go to ci.northfield.mn.us and click on city council.
A soggy Almanzo still attracts hundreds of bicyclists
Of the 1800 pre-registered, an estimated 500 bicyclists showed up on a cold, soggy weekend to ride out of Northfield for the Almanzo riding event. Riders left from 4th and Washington Street at 7 a.m. on Saturday and again at 9 a.m., with the long riders leaving at midnight Friday. Those on the shorter rides returned to Central Park for some food and camaraderie. Despite the weather conditions, there were many who camped at Sechler Park for the weekend. One of the organizers, Marty Larson, said he'd like to see the free event continue each year in Northfield.
Northfield Area United Way awards over $240K
Northfield Area United Way has awarded $240,350 in grants to 17 local nonprofit agencies and school-related programs that assist people suffering hardship and crisis, improve financial stability, increase access to health and wellness, and promote youth success. Three initiatives received United Way grants for the first time this year: Neighbors United, for a financial education and inclusion program; Northfield Community College Collaborative, providing a supportive environment for students to pursue post-secondary education in Northfield; and Northfield Public Schools' multi-tiered support initiative to meet the needs of chronically absent students. The full press release is on our Community News page with a list of each nonprofit that was awarded dollars.