By Teri Knight, News Director
Two men from Faribault were arrested after a traffic stop in Morristown. 18-year-old Mason Scott Kryzer was clocked driving at 72 mph in a 60-mph zone on Morristown Blvd just before 4 p.m. on Sunday. A Rice County Deputy pulled him over near Iona Avenue. As the deputy approached the passenger side of the car, an overwhelming odor of marijuana came from inside. A search of the vehicle revealed a gram of marijuana wax, a scale and a pipe in the center console. A red and blue backpack held 11 baggies of marijuana with a total weight of over 333 grams. A blue backpack owned by passenger 21-
year-old Noah Gene Howard Goodwin held a total of 4.68 grams of  marijuana wax. Neither of the two men would claim ownership of the red and blue backpack. There was also an additional teenage passenger in the car. Goodwin is charged with felony 5th degree possession. Kryzer is charged with the same, plus driving after suspension. Their initial court appearances are scheduled for May 29, 2019.
Dokmo is chosen as 2019 Joseph Lee Heywood Award recipient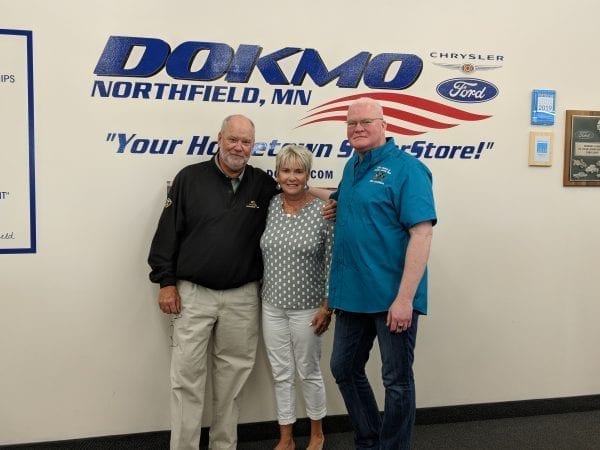 Yesterday afternoon, the Defeat of Jesse James Days Committee showed up at Dokmo Ford Chrysler of NOrthfield to tell Clancy Dokmo he was the recipient of the 2019 Joseph Lee Heywood Award. Asked if he was surprised, he said, "100%. I didn't see this coming whatever, it was totally unexpected. I'm pretty much humbled for the opportunity. I've seen a lot of my friends over the years win the award and I never thought that it would ever come my way, so it's pretty cool, I'm pretty happy with it." Clancy has been associated with the annual celebration for 35 years, adding, "I was there at the beginning of the rodeo and the rodeo is really kinda my baby in the whole event, so I'm pretty pleased. I couldn't ask for more and I think it's pretty neat and it'll make this year's celebration even more special." Clancy's wife Connie said, "Well obviously I couldn't be more proud of him, he's so deserving. He's done many, many things for the town of Northfield and would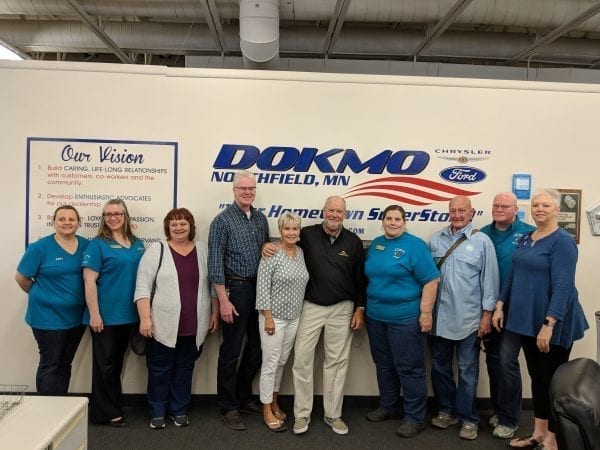 continue to do so. I know he's proud, I'm proud and I can't wait to tell our friends and family and it's just a great moment." Clancy also plans to retire this year, adding, "Well it's certainly bittersweet but I think it's time, like everything else. I've had 35 years. It's a younger person's business and it's time for someone to do a better job." He says he's happy with the transition as Doug Erickson from Hastings Automotive plans to takes over the business. Clancy and Doug have known each other for 30 years and they crafted the deal together in a duck blind. Clancy will maintain an office at the dealership as Doug takes over. Clancy will be honored on September 4, 2019, at the annual DJJD Heywood Banquet and will receive his award at that time. 
Northfield Hospital Auxiliary Book Fair nets $67K and donates it back
The Northfield Hospital Auxiliary Book Fair began in 1961 by Berdelle Hero on her front porch. Fifty-eight years later, Chair Rita Olson confirmed this year the sale sold over $67,000 worth of books, CDs, DVDs, games and vinyl. Organizer Mary Schwake said preparation for the sale takes about weeks, with 360 volunteers collecting, sorting and selling! There are 59 key people on the committee. This year the Hospital Auxiliary is donating $10,000 to the Northfield Rescue Squad for a new heavy rescue truck. Additionally they're purchasing an adult size modular airway trainer to be used for realistic intubation and advanced medical training for the emergency room and a second SimMan ALS. This is an adult size mannequin for staff to train on in multiple conditions, and has a price of over $38,000. The auxiliary donated additional items including sleepsacks and books for newborns in the Birth Center. Whatever is unsold from the sale is recycled. Schwake noted that she's been helping with the sale since the early '90s and has seen many book titles come back over and over again. Last year the sale exceeded one million dollars in sales!