By Teri Knight, News Director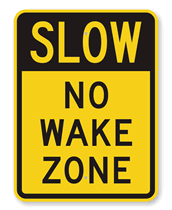 With continued rising water levels, Rice County Sheriff Troy Dunn issued emergency wake restrictions this morning. He checked six area lakes and they're all high. He's received calls from those living on the lakes who are concerned about erosion. Dunn said we need warmer weather, and less precipitation and wind. He said, "With those high winds, especially on the lakes, it tends to pound those waves in on the shores and, when it's higher, it's eroding away the timbers and rock and (inaudible) and everything else that people have along their shorelines and it's deteriorating some of the areas." The Cannon River is also  rough. Dunn said, "There's
debris everywhere and when it goes high it pulls more stuff in and so you're getting new stuff and some of it's going downriver and some of it's staying and getting caught up on other things." He just recently advised no travel on the river due to debris, fast water and the water temperature. He said this is problematic in particular between Faribault and Northfield. The trees that ARE standing are in danger with the saturated soil. His department will be posting highly visible signs throughout the county today. The Cannon River in Northfield measured at 896.3 ft. at 10 a.m. this morning. 897 ft. is minor flood stage. The river has risen over two feet in the last two days.
U.S. Representative Craig holds Northfield Town Hall – full audio below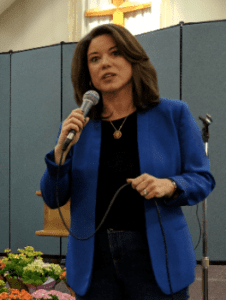 United States Congresswoman Angie Craig held a Town Hall meeting at the Northfield Retirement Center last night. The chapel was overflowing with a diverse audience made up of Boomers to Gen-Xers. The questions were wide ranging as well, from healthcare to nuclear weapons. The first question was about climate change. Craig answered, "I am one of the original co-sponsors for 'Carbon Fee and Dividend'," she added, "I believe that addressing climate change issues can be one of the greatest opportunities that this country has ever seen and I actually see it from the other side is if we let China and India lead on renewable energy and addressing climate change it is a lost opportunity for this country." From gun reform to equality for all to immigration, which she believes we don't have to choose between secure borders and comprehensive immigration reform, adding, "It's more border customs agents, it's more immigration judges so that you can adjudicate these cases in a faster way, it's smart technology like drones or sonar or radar to be able to identify those who are not crossing legally." Craig took questions for about 30 minutes. Her wrap-up included three points of importance to her: the nation's infrastructure, re-envisioning technical school as an alternative to four-year college, and the dairy farmer situation. She pointed out Mike Peterson, a local dairy farmer in the audience, who testified in front of the House Agriculture committee on the effect the recent trade wars are having on area farms. The full, unfiltered audio captured last night is posted below.

Northfield and Faribault United Ways unite
The Northfield and Faribault United Way organizations are uniting to become Rice County Area United Way. NAUW's Executive Director, Penny Hilleman, will become the Director for the combined organization. It will cover all of Rice County and parts of Dakota, Goodhue and LeSueur counties. Their reach will extend into Dennison, Dundas, Kilkenny, Lonsdale, Morristown, Nerstrand, Warsaw and Webster. In a press release, Hilleman said that it's hard for very small United Ways to remain sustainable and that the Faribault United Way is by revenue one of the smallest in Minnesota. When their executive director, Adam VonRuden, was ready to move on to a new job last year, their board of directors felt the time was right to talk with Northfield's board about possibilities for collaboration or merger. Hilleman will be in studio tomorrow morning at 8:45 a.m. to talk more about the decision and why it can be beneficial.