By Teri Knight, News Director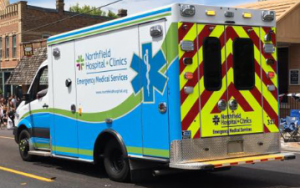 Northfield Hospital's Emergency Medical Services (EMS) do more than respond to crashes and other disasters. Director Brian Edwards explains that their community paramedic program, "…brings a different layer of services to patients in their home or in a place that's convenient for them, so patients that don't necessarily need emergency services, don't necessarily qualify for home care or advanced level care in a nursing home still need certain services and community paramedics were designed to fill that gap." It's modeled after programs in Canada and the UK. In 2012, Minnesota was the first state in the U.S. to pass legislation to allow it. Paramedic Ann Simon has been with Northfield Hospital EMS for 22 years and is now also a community paramedic. She took 100 hours of classroom time and 300 hours of clinical time, going to the hospital and practicing skills. Simon explained that a patient will get a referral from a physician for follow-up. The community paramedic then goes to the home and makes an assessment of their needs, whether that's safety needs, medication follow-ups or if they need more visits. Edwards said the program here started through a grant from Healthfinders which was a springboard to continue the program. The community paramedic helps patients navigate the medical system in getting the things they need such as medical equipment through state programs, grants or charitable organizations. Simon also works with pharmacies in medication management, making sure patients don't have expired medications and they have access to what they need. Edwards said, "It's a more holistic approach to all-being care." They also plan to start delivering services to those suffering from narcotic addictions thanks to a grant to the Rice County Opioid Response Team. If you have questions about the service or simply want more information, call 507-646-1444.
Northfield City Council approves ADUs
In a 5-to-2 vote, the Northfield City Council approved the second reading of the Accessory Dwelling Units, or ADUs, revised ordinance last night. After the initial yes vote by four councilors at the first reading of the ordinance from the planning commission, the public got involved and there were many more discussions. Speaking of the revised ordinance, Mayor Rhonda Pownell commented, "We didn't have very many people in our audience [last night] so that to me is an indication that we've done a really good job in terms of vetting this and giving the public adequate time to give us feedback, input; and I just applaud the council and the community for being active and engaged in this process." The regulations added in the second reading require that ADUs must be owner-occupied, the size of the ADU is limited, and the ADUs must be compatible within the neighborhoods they are located. City Administrator Ben Martig added this morning that, "When you get into neighborhoods and peoples' homes, it's very personal and major investments that people have made and you really want to make sure you do it right." The one bone of contention for Councilors Brad Ness and David DeLong were parking spaces. They lost that battle as Councilor Erica Zweifel said she conceded on the rule that the owner must live on the property; she wouldn't give on mandating parking. City staff worked hard on adjusting to the needs and desires of the community and elected officials to draft the final ordinance which will go into effect in 30 days.
No Wake restriction lifted Rice County Sheriff Troy Dunn lifted the no wake restrictions this morning on all waterways within Rice County. He said that water levels have subsided in the past week to a level his department is comfortable with for recreational watercraft.
Scattered storms and scattered trees Last night trees and branches fell and lawn furniture was scattered as storms rolled through Rice County and the surrounding areas. A video of a possible tornado touchdown in Dennison went viral and one Northfielder made KARE-11 News with a large tree uprooted in their yard which then fell into the street. Clean up from the storm continues today.
St. Olaf sings to the King and 95.1's 'Unexpected Caregiver' hosts Oles in Norway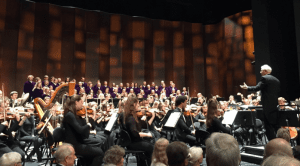 The St. Olaf Orchestra and Choir performed at the Opera House in Oslo, Norway, this past weekend. Among the audience was His Majesty King Harald V.  And also in the audience was a former KYMN/95.1 host, Kari Berit, the Unexpected Caregiver, who now lives in Norway. Berit and her husband John hosted the St. Olaf group at their homestead, Nordenga. Berit shared in an email that they fed the group who then hiked the area and learned how to stack wood; some brave souls jumped in the 50-degree water of the fjord. The St. Olaf Choir, made up of 75 mixed voices, and the St. Olaf Orchestra will perform throughout Norway this month.  More pictures to follow.