By Teri Knight, News Director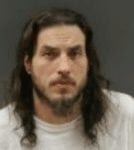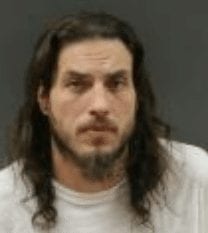 A Faribault man was sentenced yesterday to 130 months in prison and a lifetime of conditional release for molesting two of his fiance's children. The original complaint, issued in March of 2018, states that 37-year-old Keith Richard Falkenstern came to Faribault with his fiance and her four children in late February last year. They were living in a hotel when the mother walked in on Falkenstern in bed with one of her two daughters. The child told her mother Falkenstern had touched her. Both girls were interviewed by Rice County Social Services and reported being molested by Falkenstern multiple times in North Carolina, where they came from, and in Minnesota. Falkenstern pled guilty in January of this year to two counts of 2nd degree criminal sexual
conduct with a child, one of them under 16, the other child under 13. He'll receive credit for 465 days served in the Rice County jail. North Carolina has filed additional charges and plans to extradite him. Falkenstern was originally charged with 11 counts of 1st and 2nd degree criminal sexual conduct with children. A warrant for his arrest was issued from North Carolina in August of last year while he was in the Rice County jail with a bail set at $750,000.
Don't file for incorporation, let's talk – Northfield council passes resolution regarding Bridgewater Township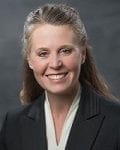 Immediately after an hour-long closed session, the Northfield City Council approved a resolution to address Bridgewater Township's bid to incorporate. The current orderly annexation the City has with Bridgewater ends at the end of this year. Mayor Rhonda Pownell explained the resolution, saying it is "giving direction to our city administrator to communicate a proposal to Bridgewater to extend the parties' existing orderly annexation agreement for a period of five additional years on the condition that they not file a petition for incorporation." The City is saying they would like to work out their issues. Bridgewater Supervisor Glen Castore has commented previously that the City "ignored" them when they wrote a letter last year to talk about the agreement. Northfield Administrator Ben Martig said they did reach out to the supervisors to see if they could extend it a couple of years, again, if they don't
incorporate. He said, "They declined on that request and then they did provide kind of a framework of some annexation terms and conditions and the council responded back again, 'well, why don't we look at a five year one that gives us a little more time, we'll continue to work in good faith and respond to their framework they put together.'" Bridgewater took action last week to continue the path to incorporation. Martig added that, unfortunately there's not a lot of time; if they file in the fall to incorporate, that kicks off a legal process, adding, "where an administrative law judge does a presentation and the city's got to ultimately have to have testimony one way or the other if we have a position on it as the City of Northfield." Northfield officials believe it to be mutually beneficial that they avoid adversarial processes. For the past twenty years, Martig said their agreement has worked well as stated in a letter from supervisors. He added that the council is very open to alternatives. A letter will be going out to Bridgewater supervisors for formal notification of the resolution. For the full interview go to kymnradio.net.  Resolution authorizing 5-year extension (final as adopted) 061819 (1)
Objection gets street assessments lowered nearly $1400
Neighbors were in Council Chambers last night as Northfield leaders also held a public hearing on the 2019 Street Assessments. Assessing homeowners for street repairs is a complicated process and staff addressed an objection by a homeowner in the John North Park area. Engineering Manager Sean Simonson explained that they adjusted assessments, or benefit appraisal, in the area of Hackerson Court from measuring at 126 lineal feet to 72 lineal feet after changing WHERE the measurement of a typical lot is taken from. That meant an adjustment for those properties from $4288 to $2900. Council unanimously approved the change.   
NDDC Taste Tour offers lots of little nibbles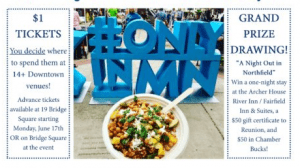 Set your tastebuds for tomorrow evening from 5 to 8 p.m. as 18 local restaurants participate in the Northfield Downtown Development Corporation's Taste Tour. NDDC Executive Director Greg Siems said these are snack-size tastings. Tickets are for sale at their office at 19 Bridge Square or you can get them at the event on Bridge Square. The restaurants will be showcasing their "fun/unique items." Each ticket is a dollar a piece and you do need tickets. For more information to to downtownnorthfield.org