By Teri Knight, News Director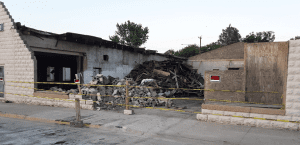 Crews were in the process of removing the roof of the old Ford dealership in Dennison yesterday afternoon when a wall collapsed. Citizen Britt Olson reports that no one was injured. Mayor Jeffrey Flaten said the west wall of the building — the middle half — is what collapsed yesterday. The city has contacted Goodhue County about the incident. KYMN has left a message for the building inspector, Michele Engberg, regarding who owns the property and if it can be salvaged. Debris has been
removed from the corner of Dennison Boulevard and Goodhue Avenue and the area is barricaded. Based on the pictures sent in by Olson, the building appears to be a loss.  All photos courtesy of Britt Olson. 
Amateur sports bring in $ for communities
Amateur sports tourism is booming in Minnesota and bringing in dollars for communities. The National Sports Center in Blaine reports that sports tourism has a $120 million impact of across the state. Northfield was busy last weekend with 53 out-of-town youth baseball teams coming to play with 11 Northfield teams in a tournament. Parks and Recreation board member and youth baseball association member, Daniel Hollerung, reported an estimated 2100 people were in town for the tournament, some outstate families staying a couple of nights at our hotels. City Administrator Ben Martig said Lacrosse held their inaugural "Jesse James Raid" tournament as well. There were 13 boys teams and 9 girls teams, 18 of those teams were from out of town. Martig comes from Marshall where they built the Marshall Amateur Regional Sports Hub (MARSH) that supports just about every sport you can think of, along with events. He said having a city with great hospitality is a lure: "This community has a great advantage with that, we've got some lodging, we've got great restaurants, we've got some unique character to the community, that people want to be here and shop and be along the river area. We've got a lot of things in order." Martig said to take it a step further you need resources, adding, "I think we have to continue to ask ourselves how do we look broadly across our facilities and sports community and do partnerships: private, public, city, school working together on those to come up with solutions." The current hockey arena is in desperate need of attention. While the referendum for a hockey arena/sports center in Northfield failed last year, discussions on a sports facility will continue. Hollerung and Martig's full interview.
Faribault man charged with 3rd degree possession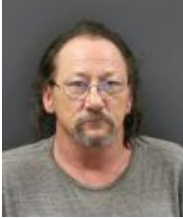 Cannon River Drug Task Force agents searched a home less than a block from the Minnesota State Academy for the Deaf and arrested 53-year-old Michael Allen Poegel for 3rd degree drug possession in a school zone. On Monday agents from the task force executed a search warrant at an apartment in the 400 block of 6th Avenue NE in Faribault. Poegel answered the door. There were three other individuals in the residence, one of which had an outstanding warrant from another county. During the search agents found numerous drug paraphernalia with methamphetamine residue. The charge carries up to a 20-year prison sentence. Bail was set at $5,000 with conditions. His first court appearance is July 10, 2019. He remains in the Rice County Jail.