By Teri Knight, News Director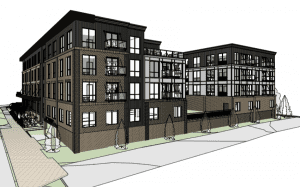 It started just three months ago and has developed into a 79-unit apartment development at Fifth and Washington in downtown Northfield. Economic Development Coordinator Nate Carlson told KYMN that Stencil Enterprises out of Sioux Falls, who just completed a development at I35 and County Road 46 in Lakeville, came to Northfield looking for a partner for development. City staff connected them with local Rebound Enterprises. The proposed $14 million project would also include public parking spaces. Carlson explains the "Fifth Street Lofts"
will include 33 studio units ranging in price from $820 to $1,000 a month, 38 one-bedroom units  starting at $1225, and 8 two-bedroom units at $1500 per month.  The studio units are 500 sq. ft., 1 bedroom are 580 sq. ft and the 2 bedroom units are proposed at 950 sq. ft. There will be two levels of parking in the building planned to serve both the residents and the community. The main level will be the lobby, office and fitness facilities for the building. Floors two through four will be the living units with two elevated resident decks. Of the 105 parking spaces planned, 42 would be public, along with 23 angled spots on Washington Street that would be a mix of private and public spaces. Stencil Enterprises hopes to break ground in October. To make that happen, Premier Bank has to be relocated. The idea is to build on The Crossing site on Highway 3. Carlson said, "They won't have the new bank built in time so they're thinking there might be a temporary solution; they haven't really gone into detail but they're working with the bank on a potential mobile bank, whatever that entails." The developers will be requesting Tax Increment Financing for the Fifth Street Lofts.  Carlson said there are no variances or other permits necessary to begin building. The plans are posted on kymnradio.net.  2 – 5th Street Lofts – EDA Presentation Drawings
1 – 5th Street Lofts Narrative 6-21-19
NAFRS gets a new pumper!
In mid-July, Northfield Area Fire & Rescue Services (NAFRS) will take delivery of a new custom designed pumper truck. Fire Chief Gerry Franek explained that this is their city response truck. It replaces a 30-year-old truck. There are a number of technology changes; for instance, this one uses Class A foam, which makes "water wetter" and helps it penetrate cracks and crevices. Safety features include roll-over protection, better lighting for nighttime fighting and a large diameter hose reel in the back for ease of use. The truck being replaced is the last of the city-owned fleet. A peek at the trucks they have is HERE. The new pumper has a price tag of $605,000. Franek and NAFRS Chair Bron Scherer's full interview is HERE. 
TIF hearing on Maple Brook Townhomes – 24 unit affordable housing

Next Tuesday, Northfield City Council will hold a public hearing regarding a Tax Increment Financing request on land that neighbors believe is parkland. The request for TIF comes from Schrom Construction for a planned housing development called Maple Brook Townhomes. It is a 24-unit affordable housing plan at Maple Street South and Ford Street East, also known as Outlot A. The regular agenda has several ordinances and resolutions related to the plan and the Outlot A easement.  1 – Schrom Construction TIF Presentation_Overview eComment is now open on the city's website under City Council, you can express your opinion online until noon on Tuesday on any item on the agenda. Click HERE for the link
City wants your input on 2020/21 budget
Additionally, the City of Northfield is asking for the public to participate in a short survey as they start the 2020-2021 budget process. There are a few questions you can answer by using Polco, a public engagement platform. Survey results will be tabulated and shared with the city council and community through the city website. Go to our Community News page and you'll find the links you need to sign up for Polco. Residents' individual information is never shared and cannot be accessed by the city.
New all-way stop
With the near completion of the Washington Street mill and overlay project, a traffic control change has been implemented at two key intersections along the project corridor. The Washington Street and Fifth Street intersection, which previously operated as a minor stop controlled intersection with vehicles on Fifth Street required to stop, has now been converted to an all-way stop control for all legs of the intersection.  The full release is on our Community News page with a map.