By Teri Knight, News Director
Last night, the Northfield City Council voted on approving the second reading of vacating the Drainage and Utility Easement Agreement for Outlot A, where an affordable housing development, Maple Brook Townhomes, is planned at Maple and Ford Streets in the Southbridge area of Northfield. This is the lot that residents and Councilor David DeLong believe was promised as parkland to the current residents in the area. City Engineer Dave Bennett said the utility and drainage easement doesn't need to cover the entire outlot. From there the discussion was once again lengthy, as DeLong continued to argue this was promised and the council had a moral obligation to honor that. However, city staff and city attorney Christopher Hood spent hours looking over documents dated from 2000 to 2004, and while murky, the
council action of 2004 points to their dedicating Outlots B, C, D and E but not A. Hood said, "Based on what I've been able to determine so far and based on, specifically, council's actions, I can find no legal basis for us to say no, you property owner, you have to give us that land for park even though you've been paying property taxes on it for 15 years, even though it's been under private ownership for 15 years, even though it's been zoned for development for 15 years. I can't find any basis to conclude otherwise."  While it couldn't be proven, there's indication that the Koester family gifted Outlot B to the city, not Outlot A. In fact, Vern Koester was at the meeting last night and, speaking during the open mic session, said that is what happened. Hood commented on a letter from Arcon Development to Brian O'Connell, the community development director at the time. Hood added, "If you read the totality of that letter, that sentence (naming Outlot A as the gifted parcel) does not make sense in that letter and the reason that sentence does not make sense is that Outlot A is not six acres, it's 2.4. What is six acres is Outlot B, so I think it's actually a typo." The lot in question had been owned by Vern and Jean Koester; they sold it to Arcon Development but it went back to the Koesters during the recession. In the end the vote to vacate the easement was five to one.  
TIF explained for Maple Brook Townhomes
A public hearing was scheduled, then cancelled, then held last night at the Northfield council meeting regarding a Tax Increment Financing (TIF) request for an affordable housing development proposed by Schrom Construction, the Maple Brook Townshomes. Due to an error in the public notice, city attorney Christopher Hood told the council they must open the public hearing and leave it open until it's properly noticed. City administrator Ben Martig explained the TIF for this project: "Basically for that site only, what's being proposed is for up to 25 yrs, when they pay their taxes that money would be captured and they would be able to collect that and help to repay back, some of the site improvement costs that they have, the extension of Maple Street, on-site type of utility work." State law allows for this type of TIF as long as there are a number of units available for those with lower incomes. Five units would be for those at 50% of the area median income, about $27,000 a year. Nineteen must be at 80% of area median income, which is about $44,000 a year. There's no risk to the City with a "pay as you go." Nick Anhut of Ehlers and Associates did a full presentation on the TIF last night. He explained that the property, once built out, will be worth $2.5 million which provides for a $445,000 TIF note, of which 5% will be withheld for the City immediately. Anhut will present this again on July 23, 2019. The City is required to hold a public hearing on TIF.
Faribault man threatens to bury his wife and burn down their house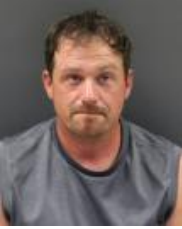 A man threatening to bury his wife and burn their house down with her in it has been charged with felony threats of violence and misdemeanor domestic assault. Faribault police met a woman, ALR, on Saturday night in the 700 block of 7th Street NW. She was crying and shaking and told officers that 39-year-old Jeremie John Roe had locked himself inside the residence. He was allegedly drunk and belligerent and verbally abusive. ALR stated that there has been physical abuse, adding that Roe controls her by disconnecting the internet. He has punched holes in doors, has let the air out of her tires, and physically abused the dogs. He's also allegedly stabbed the tires of someone who tried to help her, and stabbed himself. Officers surrounded the residence and attempted to get Roe to come out on his own. With help from a K-9 unit, Roe was taken into custody. His initial court appearance is Aug. 7, 2019.