By Teri Knight, News Director
A Northfield man charged with having over 100 grams of marijuana in March, pled guilty this week to 5th degree felony possession. 31-year-old Paul Eugene Fredrickson was pulled over in the 600 block of Water Street for a routine traffic stop. While speaking with the driver, officers noticed a baggie with a leafy green residue. A search found a another baggie containing 122 grams of marijuana. Also in the vehicle was an electronic scale, a box of sandwich size plastic bags and a notebook in the glove compartment. Fredrickson will be sentenced on September 24, 2019. The charge carries a sentence of up to five years in prison. All of his
previous convictions have been petty misdemeanors.  
Sparklers, illegal fireworks and traveling the Cannon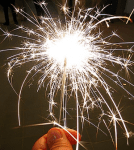 They're fun and seem pretty safe but Rice County Sheriff Troy Dunn says that medical providers report that sparklers are responsible for 30% of burns and injuries during the Independence Day holiday. Additionally, while it's not illegal to sell or buy illegal fireworks, it IS illegal to shoot them off in Minnesota. He said anything that goes up and goes 'boom' is illegal. Alcohol and fireworks don't mix. Have a water source nearby. Sheriff Dunn also doesn't recommend traveling on the Cannon River yet it's still filled with significant debris. He said two weeks ago a couple of people capsized in a kayak and a canoe and had to be rescued. They were uninjured. He says, if you aren't going to listen to him, at least put on a life jacket.
Northfield fireworks set for 10 p.m. 
There are a number of local cities hosting fireworks displays tonight, and tomorrow too. We have a list on kymnradio.net under our Community News page. Northfield will hold theirs tonight at 10 p.m. at the Northfield Middle School. The best viewing areas include the Northfield Middle School parking lot and south fields, Tyler Park, and the fields north of Jefferson Parkway. City offices are closed today and will have limited staffing tomorrow. 
Night to Unite registration open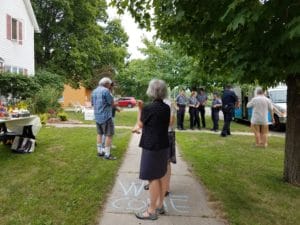 Registration is now open for Night to Unite! This year's event takes place on Tuesday, August 6, 2019. Northfield Police Chief Monte Nelson said Night to Unite is really designed to get to know your neighbors. If you want to host a Night to Unite party in your neighborhood, you can register online at ci.northfield.mn.us or in person at the police station. Register now and get a Night to Unite bag with items including public education information, blow-up beach balls, paper plates, etc., and are provided by the Healthy Community Initiative. You can also list who you'd like to have make an appearance at your event: area fire, police, city councilors, the mayor, etc. Last year there were almost 40 parties hosted in Northfield; this year similar numbers are expected. Parties can include food, games or simply conversation. It's up to you.