By Teri Knight, News Director
Northfield Hospital and Clinics (NH&C) has been exploring adding an ambulatory surgical center in the Lakeville area for some time. This week, president and CEO Steve Underdahl told the Northfield council that they've been careful about discussing it in public because of the competitive nature of the project. A same-day surgery center provides service at a lower cost than is possible in a hospital setting, yet is still safe. This is the trend with insurance companies preferring the less expensive setting. In fact, Blue Cross Blue Shield is now demanding their clients must drive to an ambulatory surgical center if they live within 25 miles of one, going so far as to tell patients they must switch doctors if their's doesn't use that facility. Procedures include anything from hip replacements to colonoscopies.  Underdahl added, "We think this is a substantial national trend but we
also think it is a significant marketplace threat for us." As a community hospital, he said, "Most of the things that we do for folks to look after the community don't pay us as much money as it costs us to provide them. And so we make money on a handful of things to spread over the things that don't make money." A surgical center helps provide security. The reason Lakeville was selected has everything to do with not competing with the hospital here and reaching into a significantly larger market that is underserved and not that far away. NH&C already has a presence in the community with clinics there and in Farmington. The point this week was for Underdahl to keep the council in the loop as they work with a developer toward a lease arrangement. The urgency now is that real estate is going up in price. Underdahl added, "We really feel strongly that having this kind of resource is crucial to [our] success and remaining independent for a medical center; I think it's on par with the decision a number of years ago to not just be a community hospital but to develop a network of clinics both in our hometown and in our surrounding towns." A regional approach, he says, will keep NH&C viable. This item could come back to the council as early as August as they get further details on real estate pricing and availability. 
Rotary/Ashoka invites local change leaders to talk ideas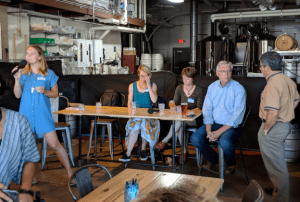 A week ago at Imminent Brewing, the Northfield Rotary Climate Action Team and Ashoka brought together some of Minnesota's leading social entrepreneurs and local change leaders for an evening of fresh ideas. Attendees were invited to reimagine life 50 years from now and work together to build a more healthy, vibrant, and resilient Minnesota. Panelists included Tim Penny of Southern Minnesota Initiative Foundation, Ashoka Fellows Regi Haslett-Marroquín of Regenerative Agriculture Alliance and Rachel Armstrong of FarmCommons, and Helen Forsythe of Northfield Curbside Composting. Ashoka representative, Maria Estenson, was the moderator. The four panelists offered their varied solutions to work together and then tablemates shared ideas. Estenson commented after the meeting that changing economies, societies, and climates are global challenges, but they demand local action. It starts in our own backyards and neighborhoods, listening to one another and learning from the natural world around us. She returns to Washington, DC, commenting that she left Northfield more hopeful, committed, and inspired. 
Divers down around the Ames Mill Dam
If you see divers down by the Ames Mill Dam, don't be alarmed. Post Holdings hired Midco Diving to inspect the Malt-O-Meal building foundation and dam bypass today in preparation for an upcoming routine maintenance project to repair portions of the building façade. The public can expect to see divers and equipment in the river and along the shore.