By Teri Knight, News Director
A New Prague man remains in jail after an altercation with an ex-girlfriend. Last Thursday night, Faribault police were called on a report from a woman who said that 40-year-old Benjamin Michael Duff had been following her, threatening her and had a gun. He followed her from a friend's house to the Speedway store. She said she saw him put a gun in his pants and then followed her into the store. The clerk was alerted by her and that's when she called police. She told Duff she was calling the police and he left the scene. The victim also told police that he'd been stalking her, wrote "Catch you later" on her car, and sent pictures of guns and 45 messages over the past three weeks which read, "Die." She also had a slashed tire after the incident. Police arrested Duff at his residence in New Prague. He's charged with multiple counts including 2nd degree assault with a
dangerous weapon and pattern of stalking. Bail has been set at $50,000 with conditions. The most serious charge carries up to 10 years in prison. His initial court appearance is Wednesday. 
Northfield Council considers big $ expenditures for WWTP and Bridgewater Township issues
The Northfield City Council meets tonight instead of their regular Tuesday night due to the annual Night to Unite event on August 6. The council will swear in new police officer Dillon Brashear, Northfield Hospital and Clinics will present their final design for the Clinic and Birth Center expansion, and council members will hear the Age Friendly Northfield Final Action Plan. The council will vote on whether to approve a contract for the Wastewater Treatment Plant Operational Analysis and Facility Study Update with a budget of $150,000.00. Additionally, and what could be the thorniest issue, is their consideration of a resolution regarding boundaries and future growth in preparation for negotiations with Bridgewater Township and in response to the township's quest to incorporate. Right after will be a budget amendment approving $100,000 for additional related legal services. City council meetings begin at 6 p.m. in Council Chambers at City Hall. The public is encouraged to attend. Citizens can speak during the open mic session or wait until the item is up for discussion. Northfield Mayor Rhonda Pownell and City Administrator Ben Martig will be in studio at 7:20 a.m. Wednesday.
Divers down – maybe
They couldn't do it last week, so they're trying again this week. Post Holdings has rescheduled divers to inspect the Malt-O-Meal building foundation and dam bypass adjacent to the Ames Mill Dam in Northfield today. The public can expect to see divers and equipment in the river and along the shore. The previously scheduled inspection on July 26 was canceled because of high water flow. This is, again, weather dependent. 
Vintage Band Festival fills the air with music all weekend!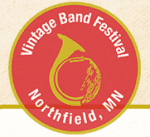 From Mariachi to Polka to Brass and much more, the music was flowing all weekend long throughout Northfield with the Vintage Band Festival! 100 concerts over four days! Upwards of 45 bands from around the U.S. and as far as Germany, Belgium and Finland, converged on Northfield and surrounding communities to share their vintage music for free. These concerts cost tens of thousands of dollars to put on. If you'd like to donate, go to vintagebandfestival.org. The music wrapped up last night at the Kracum Performance Hall in Carleton College's Weitz Center. 
Goats on the loose
The goats got loose on the Carleton campus. Alexis Fitz posted pictures in Northfield Happenings of about 20 to 30 goats roaming the grounds munching on the landscaping. She and her son hung around until Goat Dispatch arrived and then they helped heard the goats back into their fenced area where their chow was more weeds than cultivated landscaping! Pictures are on KYMN Facebook page.