By Teri Knight, News Director
At over a million dollars more than estimated, Northfield Hospital and Clinics moves forward with their Clinic and Birth Center expansion. President and CEO Steve Underdahl shared the final plans with the Northfield council this week along with the cost. The bids for the estimated $13 million project came in at $14.7 million. Underdahl explains there were a few reasons [for the increase] but, "…the big ones were the heating and air-conditioning, the HVAC systems, particularly as we add the in-suite c-section operating room. The level of sophistication and complexity for the air handling was beyond what we'd originally believed." Soil conditions proved to be a problem as well. The area [where the expansion will exist] requires additional engineering to make the footings solid. Underdahl said there were escalations in labor costs related to bids vs. estimates. They considered options with the hospital board and chose to move dollars from their routine capital spending fund over the next couple of years to complete the project as designed. The plan is to award contracts September 3, 2019, which needs council
approval. Construction could then begin in October with the plan for the clinic expansion piece to be completed by August of 2020 and the birth center in January of 2021. They are also looking to sell property in Elko/New Market. Northfield City Administrator Ben Martig said, "They [NH&C] own some land. They had leased a space for a clinic which ended up, due to market conditions, they didn't continue it there. And there's an interested buyer so they'll make a little money and look to sell that land that will also require council approval." A hearing on that will take place at their August 20, 2019 meeting. Next week they'll hold a budget retreat in the Northfield Police Department conference room. 
New Northfield officer sworn in
A new police officer was sworn in this week at the Northfield City Council meeting. Dillon Brashear comes from Eagle Lake. Chief Monte Nelson said Brashear worked for the Blue Earth County sheriff's department as a detention deputy and also for the Eagle Lake police department. Brashear and his finance Larissa plan to move here very soon. City Clerk Deb Little swore him in (audio below). Brashear is Northfield's 23rd sworn officer. This hiring allows Officer Ryan Bollig to move into investigations.
2018-19 winter 'most severe weather in a decade' according to MnDOT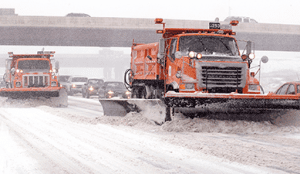 The Minnesota Department of Transportation spent nearly $133 million dollars to clear roads during the 2018-19 winter season and crews faced some of the most severe weather in the state in a decade, according to a new MnDOT winter maintenance report just released. Minnesota has the fifth-largest roadway system in the country and more extreme weather conditions than most states, costing taxpayers a lot of money to maintain. Last winter, the statewide snowfall average was 97.2 inches, the result of 31 snow events during the season. Those storms created a statewide Winter Severity Index score of 154, nearly 40 points higher than the previous year and the most severe since MnDOT began tracking a severity level this way.  2018-19 winter costs MnDOT $133 million