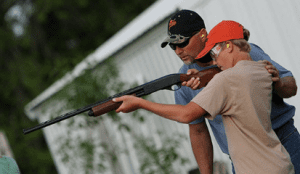 Register for Firearm Safety!  Community Services is offering this course in partnership with The Cannon River Sportsmen's Club. Please register by Thursday, August 22. 
Students must be 11 years old by the start of the class. There is no maximum age limit. Classes and a field trip will cover safe gun handling, gun safety in the home, care and storage of firearms, marksmanship and hunter responsibility. Attendance is mandatory at all sessions. All participants
must also attend one field day (in class sign-up). After passing the class, students will need to register with the DNR and pay a fee of $7.50 in order to receive the certificate of completion. Please register students with their full legal name. Register through Community Services. For more information, call Blair Fowler at 612.245.7835 (day) or 507.663.1472 (evening); Paul Tupy at 507.645.8558; or visit http://crsportsmen.com. No students taking the online training course will be permitted to participate in this program.
M – Th, Aug. 19 – 22 & M & T, Aug. 26 & 27; 6:30 – 8:30 p.m.
Test:  W, Aug. 28; 6:30 – 8:30 p.m.
Field Days: F, Aug. 23 (evening) or Sat, Aug 24 (morning)
Register by clicking HERE or contact Community Services at 507-664-3649