By Teri Knight, News Director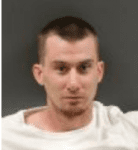 A Lonsdale man with repeated convictions for domestic assault and violations of Orders of Protection is back in jail for the same things. Last Thursday evening Lonsdale Police responded to a call from a woman who said 29-year-old Michael Thomas Ziegelman had been contacting her through scrambled and blocked phone numbers. Officers spoke with him a few hours later and he said he might have left her one message and that he thought messages were coming from the victim. He was convicted in July of felony domestic assault of the victim in this criminal complaint and also of the same woman in 2016. Ziegelman had two convictions in Scott and Carver Counties in 2012. He's
charged with felony violation of the No Contact Order and bail has been set at $30,000 with conditions, $50,000 without. His initial court appearance is August 28, 2019. 
DOC gives a "verbal yes" to Sheriff Dunn for extension on county jail
The Rice County Jail was scheduled to be designated a 90-day facility by the Department of Corrections (DOC) because the facility does not have enough space for programming long-term prisoners. The DOC had given Rice County Sheriff Troy Dunn until November 1, 2019, to make this change. However, County Attorney John Fossum indicated that Dunn "…has had more communications with the Department of Corrections and it seems like they may extend that deadline from November 1st for another year or so and he's been working with the Commissioners to do a jail study." (By phone, Sheriff Dunn said it's a verbal 'yes' but nothing formal yet; he's being cautious.) The concern is that there are offenders being held on serious felony charges while they await trial, which can take up to 12 to 18 months to process their case. The new designation would mean that after 90 days, the Sheriff's Office has to "…load them up into a squad car and take them out to Le Center, to Red Wing…."). And, when their court date is scheduled, they must then be returned to Rice County Courthouse. Dunn estimates the cost of transport and housing to be about $700,000 a year. Fossum said, "It's going to be expensive to build a jail but it's going to be expensive not to." Fossum would like to see the county build a Criminal Justice Center wherein the courts and the jail are all in one place, reducing transport costs as well as the risk of taking prisoners outside in inclement weather and the risk to deputies and vehicles. He added that the county needs more hearing rooms and a fourth judge. Just around two years ago they had to close the front entrance of the current courthouse, built around 1931, to secure it and allow for handicapped accessibility. 
River sampling upstream of Ames Mill Dam
Post Consumer Brands has hired Barr Engineering to perform routine river sediment sampling on the Cannon River just upstream of the Ames Mill Dam. Using a boat, they'll be taking samples tomorrow and Wednesday. Northfield Public Works Director Dave Bennett said the public can expect to see a small boat and equipment in the river upstream of the dam.
Northfield Shares reaches out to Hispanic community for a seat at the table
In just three weeks Northfield Shares reached their goal of registering a thousand people to have "a seat at the table" on Division Street for their 'Northfield Shares a Dinner' event slated for this Sunday. But organizers say they hoped more of their Hispanic neighbors would register. In a press release, organizer Nancy Carlson said with many immigrants living in fear, the organization has included Hispanic leadership to help encourage those families to come to the table. Volunteers have gone door-to-door handing out event flyers in Spanish. They continue to reach out to the Hispanic community. The full press release is on kymnradio.net under our Community News page.