By Teri Knight, News Director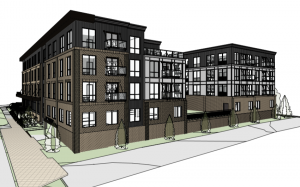 Last week, the Northfield EDA reviewed multiple subsidy requests from Rebound Real Estate, in partnership with The Stencil Group, for the $14 million 5th Street Lofts project. They requested land contribution at 510 Washington Street, which the EDA authorized purchasing for $212,000. Closing is scheduled for September 6, 2019. The idea is that the developers would pay the city a dollar for it. They've also requested TIF assistance over a 25-year period. EDA Coordinator Nate Carlson said it would be a "pay as you go structure" within the TIF
District. That means there are no "up front" costs to the city. The property owner pays their taxes but then a portion of those taxes are reimbursed on a yearly basis. And they've asked for a $250,000 revolving loan from the EDA for site preparation. This item had a lot of discussion. The developers included a potential public parking element for the city council to consider which would include reimbursement for spaces that would be under the management and control of the city. The cost reimbursement would be $920,000 over 10 years, should the city participate. The public parking component is not necessary to complete the project. Community Development Director Mitzi Baker told the EDA that in order for any of this to happen, Premier Bank has to relocate. The plan is to move to The Crossings site off Highway 3. The Planning Commission did review a conditional use permit for a bank drive-through, which was approved. She added, "Overall these projects do help the city to realize its goals related to density, more efficient use of land and infrastructure and then reinvesting in the downtown." There was concern from the finance committee of the EDA regarding a $3 million finance gap. Rebound's Brett Reese said they have another loan [in place]. EDA member Enoch Blazis, commenting on the parking lot wrote: "I do not think the added expense of the climate-controlled parking is advantageous without a specific parking study." He was also skeptical that people will pay for climate-controlled parking here. He doesn't believe the parking cost is worth it. The EDA approved all conditions and a vote next goes before the city council. Developers would like to begin work by the end of October. View the proceedings on the City of Northfield's website; there's also a lot more information [about the proposed project]. More information here.
Water main break on Linden Street
A watermain break in the 1100 block of Linden Street South has occurred between Linden Place South and Woodley Street West. Water is temporarily shut off, affecting 16 houses. The road will still be open to traffic throughout the repair process with temporary road closures being possible. Northfield Utilities Manager Justin Wagner anticipates the water main will be back in service by 5 p.m. this afternoon.
Northfielders shared a dinner – and what a success!
Many Northfielders shared a dinner last night. Over a thousand of them were served family style on Division Street! Nancy Carlson and Jill Metz along with Jennifer Sawyer from Northfield Shares spent months planning the event. The menu and food was prepared Marriott Fairfield Inn Chef Craig Corvella, who said it was, literally, a ton of food! Nine hundred pounds of meat (turkey and pork), one thousand pounds of corn on the cob, two types of side salads, buns and butter. The serving took only about 30 minutes, thanks to the Northfield High School cross country ski team. There was music, art and Jonny Pops for dessert. All the plates, utensils, etc., were compostable. KYMN plans to have Jill Metz in studio this week to talk about the logistics of planning an event of this scale.