By Teri Knight, News Director
The Greenvale Township Planning Commission held a public hearing last night regarding amendments to a zoning and subdivision ordinance concerning building eligibility, which had been approved by supervisors in 2017. They made some edits but did not close the public hearing. The hearing will reconvene tomorrow evening at 7 p.m. to allow the township's attorney time to complete the document, which commissioners will then consider voting on. Subsequently no board meeting was held last night. Chair Greg Langer said about 36 people that showed up for the meeting. The issue, Langer says, seems to be the question of preserving the rural nature of the township or allowing more
development of homes. There is currently a moratorium on new home building. Resident and developer Ken Malecha brought a lawsuit against the township after he was denied acknowledgement that the land he owns is buildable. Malecha reports there were 80 people in attendance for the meeting.
Northfield refinances police station to save money
The City of Northfield took care of some financial business during their meeting last week. Nick Anhut of Ehlers, Inc. presented to the council regarding the sale of $6.9 million in General Obligation Bonds for Public Improvements. Nearly $2 million is for 2019 street reclamation projects; $735,000 for Spring Creek Road improvements and city maintenance roof replacement, with the remainder a refinancing of the police station. The original loan was for just over $6 million in 2012; the remaining debt is $4.12 million. The current interest rate the city is carrying on the debt is 3.05%. In today's  market, Anhut says, the rate is 2.25%. He said the city could save, conservatively,
$275,000 over the life of the loan which runs to 2033. City Administrator Ben Martig said last week that, with the changing markets, they had to make a quick decision and this was the time to do it. Ehlers reviews the city's finances on a regular basis. Last year it did not make fiscal sense to refinance the police station; however, this year, it does. 
DJJD Horseshoe Hunt begins tomorrow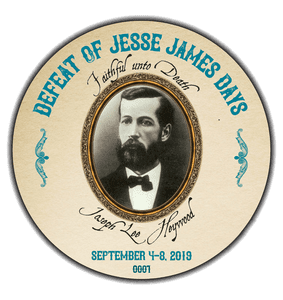 With school starting, the Defeat of Jesse James celebration is right around the corner and that means that the annual Horseshoe Hunt starts tomorrow! Get your DJJD button and get it registered before the first clue drops at 7 a.m. tomorrow morning to be eligible for the full prize of $1500. If you find the horseshoe and your button isn't registered, you'll win just $300. Go to djjd.org to register and find out all the rules. KYMN will be announcing a clue every morning and it will be posted on our website at 7 a.m.
New option for DJJD Walk/Run
You still have plenty of time to register for the DJJD Walk/Run on September 8. There are two races, a 5K and a 15K. Northfield Shares Executive Director Mike Krance explains the 15K will take runners over hills and through farm areas east of town: "It's really a great training event for anyone who's going to be doing marathons this fall." This is a family-friendly event, and participants can register online at northfieldshares.org. Something new this year is early registration and check-in on Townie Night. Visit the Northfield Shares office at 205 Water Street South and pick up your t-shirt, get checked in and receive your race bib. There is a $35 registration fee; all proceeds benefit Northfield Shares, a non-profit designed to advance philanthropy and inspire volunteerism in Northfield. These dollars help in their daily operations, allowing them to "…do what we do on a daily basis for the community. That's everything from providing grants to the non-profits to coordinating volunteers." Both races will take off at the same time, 8 a.m. on Sept. 8. This is an open course; if you'd like to volunteer to help, you can also do that at northfieldshares.org.