By Teri Knight, News Director
Greenvale Township Planning Commissioners approved the "tightened up language" to their 2017 Building Eligibility policies. On Wednesday evening, the commissioners reconvened their meeting from Monday and the Board of Supervisors met immediately afterward, approving the ordinances and voting to lift the moratorium on building single family homes that was put into place in June. The moratorium will formally lift after a notice in the newspaper next week. A lawsuit was brought by TK Properties against the township regarding building eligibility in May. A
Motion for Summary Judgement is scheduled for October 15 in Dakota County Court. These are the meeting minutes from October of 2017. The ten points policy is on page 4. October 17, 2017 Minutes   The lawsuit is here: TK Properties v Greenvale Twp Complaint-Civil (1)
And the Township's answer is here: Greenvale answer to TK
Sibley and Greenvale Elementary Schools give progress reports

Sibley and Greenvale Elementary Schools in the Northfield School District gave progress reports to the school board this week. Superintendent Dr. Matt Hillmann said they honored Sibley Principal Scott Sannes for 20 years with the district, saying they're "pretty sure he may be the longest tenured principal in the same position in modern Northfield school history." Hillmann said the elementary schools have common goals including how they're performing academically with certain benchmarks, how they're helping children grow socially and emotionally, and what they're doing to support parents. They discussed improvements they can do from year to year, focusing on various areas. All improvement plans also took into account a parent satisfaction survey. Hillmann said every school has a goal based on the lowest rated survey item. He said parents of elementary students wanted to hear more positive things about their kids. There's more to the interview posted on kymnradio.net. 
Bus safety as kids head back to school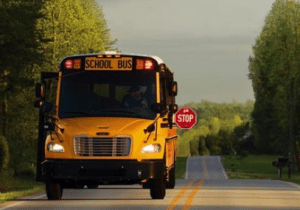 School starts Tuesday! Benjamin Bus Safety Director Jenna Dardis said they are geared up and ready to roll. That means kids at bus stops, buses on the road, and as for the rest of us, when we see those big yellow buses and the flashing yellow lights, know the bus is going to stop — and when the red lights come on and the stop arm is extended, STOP at least 20 feet back. She advised that to avoid congestion, drivers should consider altering their route when the buses start rolling, as the bus routes won't change. Northfield Police Chief Monte Nelson added that there are crossing guards at all of the elementary schools and the middle school on Highway 246. That pedestrian crosswalk has flashing lights and an adult is there to help usher students across. When the adult or student guards step into the crosswalk and raise their flag, you need to stop. Once anyone enters a crosswalk anywhere, the driver is obligated to stop.  
Chief Nelson talked about hands-free driving as well. His department has made stops and issued citations as drivers get used to not using their cell phones with their hands. He noted that just the act of putting the phone in a holder has made a difference. Teenagers cannot use their phones at all while driving, not even hands-free.