By Teri Knight, News Director
The intersection at Highway 246 and Jefferson Parkway has been a huge safety issue for many residents for years. Finding a solution that works for everyone is an impossible task; however, a roundabout has been determined as the safest and most efficient solution. While it continues to be debated on social media, the City of Northfield will be installing a roundabout and it will have four underpasses. As to the question of safety and drug use inside the tunnels, SEH consultant Wayne Houle pointed out at an open house that this intersection is unique in that it's elevated, which means they don't have to dig down as far, there's no steep grade and you'll be able to see to the other side. With a typical underpass, you cannot see until you're nearly out
of it. They're also looking at lighting them and possibly having cameras installed. The estimated cost is $3.3 million. City Administrator Ben Martig said that the local taxpayer cost will be $1.4 million for the underpasses. State taxes will pay for the roundabout. Mayor Rhonda Pownell said that's about $20 a year on a $200,000 home. The next step is for a Level 1 approval by MnDOT for the roundabout design. In November, SEH will come back to the council with an update on a more refined design and a bid alternative for 16 ft wide underpasses rather than 14, which could potentially add 3% to the cost of the concrete. SEH will also come back with more information on the crosswalk options in front of the high school. The final design will be determined by early December with bidding anticipated in January or February at the latest. TH246 Jefferson Roundabout Feasibility Study Final_Redacted_1    Resources on safety studies: Wisconsin DOT   Federal Hwy Administration    MnDot  and a HOW-TO on navigating 
Clancy Dokmo honored as Joseph Lee Heywood Award winner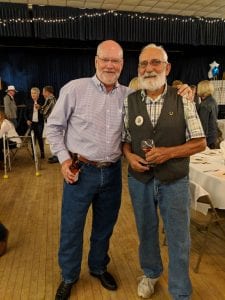 The Defeat of Jesse James Days Celebration was fully underway with the graveside service for Joseph Lee Heywood and Nicholas Gustafson at noon yesterday and the Heywood Banquet honoring Clancy Dokmo last night! A crowd filled the Northfield Ballroom to honor the man who's done so much for the community, in particular his decades-long involvement with the Defeat of Jesse James Days. Best friend Terry Heilman then gave some history and a little roasting. He told the audience that he had enough material for an hour and a half but after taking out the "inappropriate" material, it was only ten minutes long! DJJD General Chair Galen Malecha then gave Clancy his award, who said, "For me and Connie, this is really an unspeakable honor. When the Defeat of Jesse James Day committee surprised me this summer to be the recipient of this award, I was really speechless for a minute, which is kind of a rarity for a car dealer." He is the 37th recipient of the Joseph Lee Heywood Award.
Get a safe ride home for free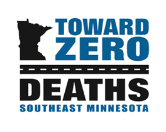 You can get a free JOYRIDE home in Northfield after a night out at the DJJD Entertainment Center. Toward Zero Deaths is providing a free shuttle between 10 p.m. and 2 a.m. Saturday night from 5th and Water Streets. Leave your vehicle behind. Tickets are available at the Entertainment Center and most bars and restaurants downtown. All you need to do is write down your name and address so they know where to deliver you! We also have tickets here at the studio on Division Street.
Northfield up for BEST town in MN Monthly magazine
Did ya hear, Northfield is in the Top Ten towns, according to Minnesota Monthly, but we can only make it to number one by voting. Go to bestmntown.com and vote through September 30.