By Teri Knight, News Director
In July, the Northfield Area Fire and Rescue Service (NAFRS) Joint Powers Board approved a third amendment to their joint agreement with Rural, Northfield and Dundas. Before it went to those entities for approval, they saw some language inconsistencies and approved a change of those at their August meeting. The revised amendment then went to Dundas. Dundas City Administrator Jenelle Teppen said on Monday, "…and the Dundas City Council voted to deny that, so it's our understanding that those amendments are not effective." Remarking on those changes, she said, "Many of them, the city council did not have a problem with, but the one that was a real sticking point with them was related to oversight of personnel." That includes taking away board authority to have control over employees, human resources and a succession plan and giving
it all to the volunteer fire chief. It now goes back to the NAFRS board and staff to work it out. The agreement and amendments can be found on kymnradio.net. In an email, Teppen wrote: The City Council disagreed with the amendment that removed oversight of personnel from the Powers and Duties of the Board (Section 5 f, ix) and again in Personnel, Section 15.  99 – 08152019_Final Packet (1) – the information regarding this news story starts on page 15. 
Northfield council considers 9.5% to 11% preliminary levy
The Northfield City Council met in a work session to discuss budget, taxes, franchise fees and local sales tax options. They took a survey with multiple questions regarding all of those things, which can be found on the KYMN website. As for the levy, Northfield City Administrator Ben Martig prefaced the discussion with the fact that the C\city implemented a higher payscale for employees a couple of years ago and they're still feeling that in the budget, adding that the starting point range they looked at was 7.5% to 25%. He added, "That being said, on the 25%, part of that was for illustration. When we looked at comparable cities, if you did an increase just to put as at an average of other cities in our comparable group it would mean we would do a one-time 25% increase to get us to that average." KYMN Morning Show host Jeff Johnson asked how we could be so much lower than those "comparable" cities — "is that an apple to apple comparison?" How are they defining a comparable city? Martig worked to answer that question, admitting it's not easy, at about the six-minute mark on his interview this morning. Northfield doesn't have the business tax base to help property owners. He said the council is considering ranges between 9.5 to 11% for the preliminary levy. At 9.5% on a $250,000 home, Martig said that would be about $12 a month. The council discussed budget priorities, which include adding a patrol sergeant and possibly another evidence technician, after an outside audit by Novak Consulting. Martig added, "Dealing with our streets and infrastructure, how can we make sure those are priorities investments, our parks. When we look at comparable cities the maintenance we have on our parks is lagging behind." Downtown there are a lot of volunteers, however, they are aging and the city is considering adding a position to handle all that upkeep all around the city. Council will vote on the preliminary levy at their September 17, 2020 meeting. You will be able to comment on this item as soon as the city posts the agenda, generally on Thursday or Friday. You can also speak at the meeting itself.  Here is the presentation: 2020 Budget Update 9.10.19 Presentation DRAFTv3
Here are the survey results regarding items above: 2019_09_10 Council Questionsfinalresult
AgeFriendly Northfield celebrates "Red Chairs"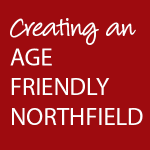 An age-friendly community works to ensure its citizens are able to remain in their own home or community even with significant changes in health and economic conditions. To that end, Age-Friendly Northfield steering committee members David DeLong and CC Lindstroth came in to talk about Red Chairs. There are many wonderful outdoor performances in the city but not enough places to sit. The chairs will be set up at "Red Chair" events and will be designated for older community members, disabled and/or handicapped citizens. They are planning a celebration this evening at FiftyNorth at 6 p.m. with entertainment, cake, ice cream and information about AgeFriendly Northfield. The City has agreed to help set up and take down. They were able to purchase 50 red chairs through a grant from the AARP Community Challenge. Their website, agefriendlynorthfield.com, is loaded with much more information about who and what they are and why it's important.