By Teri Knight, News Director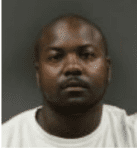 A Florida man drove 54 miles in 37 minutes. That's an average of about 88 mph. Starting with accelerating at an intersection on 4th St. NW near Lincoln in Faribault where Rice County Sheriff Troy Dunn had to brake and swerve to avoid him, 32-year-old Milton Brian Mobley sped off. Complaints of a black Ford 150 with a Florida plate started coming in from the Highway 60 area and then I-35, where Mobley was reportedly passing cars on the shoulder. According to the criminal complaint, Mobley denied he was in Faribault and didn't know why he was being arrested. He added that he rented the truck in Fort Lauderdale and
then said two friends may have borrowed the vehicle but he didn't know where they lived, and had no contact information for them. He remains in the Rice County Jail charged right now with fleeing an officer. His initial court appearance is September 18, 2019. 
Development comes with tax incentives – it's a "long game"
As the City of Northfield looks at a 9.5% preliminary levy and Rice County looks at 9.3%, growing our tax base in Northfield would be a way to raise some revenue says City Administrator Ben Martig. Easier said than done. While there has been activity with home building, senior living building, the new hotel, smaller businesses and some expansions, there's also a lot of tax incentives given out to attract development including tax increment financing. Very simply, Martig explained that they pay the tax on the new building but it's returned to them for a period of time. The city won't realize those tax dollars until the TIF has ended, which varies. The Maple Brook Townhomes project and the 5th Street Lofts project each have a 25-year TIF at different dollar amounts. Martig called that the "long game." He said, "Certainly you've got jobs, you've got a business being successful and other benefits but sometimes there's a lag with some of those projects too. I still think they're important to do and sometimes you need to offer those incentives for businesses to come here but we're going to be here a long time and eventually it will come around." As part of the Lofts project, Premier Bank is building on the corner of Highway 3 and 2nd Street with no tax incentives. Martig said the city is seeing about a .8% real growth tax base; however, he added, "We do have a lag though, so a few things, one is the assessments that we have that the assessor does at the county to determine valuations, generally is about a year behind." Other alternative revenue options the Northfield City Council is considering include a gas and electric franchise fee on your monthly bill. Martig said, "Now, that would be all properties. They all pay for electric bills, all properties pay for gas bills whether a tax exempt property or not, so it hits more property people than maybe the property taxes." That includes the colleges. One of the thoughts on that is to replace street assessments with this type of revenue. Another consideration is a local option sales tax up to .5%. Those must be capital projects and must be approved by legislators. A vote on the preliminary levy is set for Tuesday. 
Division to close on Monday
Road work is scheduled to begin Monday, September 16. City of Northfield Engineering Manager Sean Simonson reports Division Street will close from Eighth to Sixth Streets, including the Division Street and Eighth Street intersection. Complete details with a detour are on our Community News page at kymnradio.net. Work is expected to be in place until September 27.
Peak flood level downgraded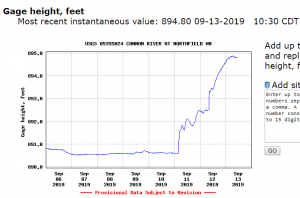 Keeping an eye on the Cannon River in Northfield as we remain in a flood watch, Northfield Police Chief Monte Nelson updated the community yesterday. The National Weather Service has downgraded the peak level at 895 feet; it's currently at 894.82.  Minor flood stage is 897 feet. Those numbers are measured at sea level. This link takes you to river level. Refresh it for the most current info.  USGS Current Cannon level in Northfield