By Teri Knight, News Director
A Northfield man with multiple warrants in Rice and other counties was arrested Friday. The sheriff's office was alerted that 34-year-old Eric Leon Anthony Jr. was likely at his father's house. A Rice County deputy saw Anthony leave the residence on Echart Avenue, stopping him at 90th St. and Albers Avenue. Anthony was placed under arrest. A search of the vehicle revealed a glass pipe with methamphetamine residue. Anthony has prior controlled substance convictions and is subject to nine active warrants. He's charged in this case with 5th degree felony drug possession. Anthony is scheduled to appear in Rice County court on Sept. 25, 2019. He remains in the Rice County Jail. 
Commissioners postpone environmental review of Wolf Creek Autobahn
Thirty more days to consider whether they need a more in-depth environmental review. That was the decision by Rice County Commissioners regarding the proposed Wolf Creek Autobahn. In early August, the Rice County Planning Commission held a public hearing on the environmental impact of the proposed development and took comments through August 21, 2019. The Faribault Daily reported yesterday that hundreds of comments came in, and Rice County officials asked for and received a 30-day extension from the commissioners. The club would be built on 466 acres off I-35 and Co. Rd 46/Bagley Avenue in Forest Township. Wolf Creek would include 300 villas, a recreational road course, a 150-unit RV Park and related businesses. Wolf Creek Prelim Devlopment Plan Application docs Wolf_Creek_Autobahn_Project_Narrative 
Letter to Commissioners for Rosalyn Pautzke 
Managing chronic pain workshop

Dealing with chronic pain. How do you live with it? Are there self management options? Coming to Northfield Hospital and Clinics is a group workshop designed to help people better manage their symptoms and improve their daily lives. Catholic Charities Active Aging Program Administrator Michael Maas explains there are six sessions. They'll be talking about what the difference is between chronic pain and acute pain, the mind/body connection, and using distraction techniques. They'll then introduce action plans each week. Maas said they will discuss dealing with difficult emotions and how to deal with those changes with physical activity, exercise, diet, breathing, relaxation techniques, communication with family and friends, dealing with depression, stress and much more. The workshop begins this Friday from 1 to 3 p.m. at Northfield Hospital in meeting room A. It's free of charge but registration is required. Call Maas at 507-450-1518. They have room for about three or four more people. Sessions run through October 25.  
Shoe recycling through Friday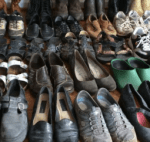 The City of Northfield is hosting a shoe recycling drive now through Friday at two locations. People can drop off any type of footwear – shoes, boots, sandals – in any condition in the back parking lot of City Hall at 801 Washington St. and at each entrance to the Community Action Center and FiftyNorth at 1651 Jefferson Parkway. USAgain is providing free collection bins. They collect and resell shoes to thrift stores and secondhand retailers. Shoes that cannot be resold are reused as furniture stuffing and home insulation. The CAC will receive a penny a pound for shoes collected. Shoe Recycling Drive