By Teri Knight, News Director
Premier Bank, which is moving to The Crossings area off Highway 3 and 2nd Street West, will get a drive-through. Discussion was lengthy during the meeting this week as council expressed their desire to make certain that pedestrians were able to navigate the area as well. The conceptual plan has the drive-through interior to the site as the bank's front will face Highway 3 with access from 2nd Street West. That means increased vehicle traffic in an area with hotel guests and those who live in The Crossings. Councilor Erica Zweifel had been working on an amendment to the resolution that attaches conditions: "…that the applicant shall incorporate pedestrian design improvements and traffic calming as determined through the site plant review and shall include delineated pedestrian network access across driveways matching sidewalk panels or alternate materials to distinguish
the pedestrian space and condition B is the applicant shall coordinate staff and the underlying property owner to locate and install a crosswalk across the private road." It got a little confusing after that. With another 15 minutes of discussion, they passed the amendment 5 to 2. Councilors Brad Ness and David DeLong felt that, as a conceptual plan, this amendment was unnecessary [and] that the developers would be addressing pedestrian safety as they moved further along. The main motion for the drive-through was passed unanimously. The developer will now get things rolling to move Premier Bank to a temporary location at The Crossings so they can start the 5th Street Lofts project this year and the building of the permanent location for the bank.
Bump-out getting smoothed out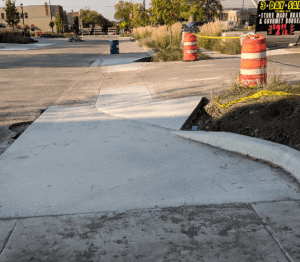 Very few people driving out of Family Fare in Northfield onto Division Street haven't hit the bump-outs. The plows have done some damage too. And now the cracked concrete from all those hits is being repaired. City Engineer Dave Bennett said it's warranty work but they are also modifying the entrance. You can see where they have lowered and smoothed out the bump-out off Division. They're also working on the corner at 6th Street where a kiosk will be placed. The warranty/repair work is scheduled to keep Division Street closed from 6th to 8th Streets through September 27, 2019. 
Northfield students join worldwide Climate Strike
Northfield will join students and concerned citizens worldwide in a climate strike tomorrow. Katie Schroeer, who belongs to the Citizens Climate Lobby and sits on the Northfield Climate Action Advisory Board, is one of the organizers. She noted that it's been helpful to have students from Carleton and St. Olaf Colleges and other adults help them with the logistics of the event. At 11 o'clock tomorrow morning, fellow student Amelia Arnold explains that students from the high school and both colleges are walking out of classes. They'll then join up at 11:30am on Bridge Square. There will be speakers, chants and opportunities to learn how to contact legislators. The School District can't formally support it but they're not going to attempt to stop the students rather work to keep them safe. The point, Schroeer says, is for world leaders to take notice and realize how important the issue is. Locally, their goal is to connect the community with the movement. Moving forward they plan to start an Environmental Club at the High School.