By Teri Knight, News Director

A fire on the roof of the new addition to the Rice County Government Center wasn't very large but caused enough damage to the heating and cooling unit on the roof to make it difficult to determine exactly what caused the fire. Faribault Fire Chief Dustin Dienst reports that foul play is not suspected. His department received a call just after 2 a.m. this morning from an on-duty Faribault police officer. Fire crews accessed the roof with a ladder and extinguished the flames with an ABC fire extinguisher and by shutting down the gas to the unit. Fans were utilized to remove the smoke that had entered the building via the ductwork. Firefighters cleared the scene at 3:30 a.m. Dienst added, "Even though this was a
relatively small fire, the smoke that entered the building will be very disruptive to the normal activities at this busy facility."  The full release is on kymnradio.net
Fixing what failed on Division Street project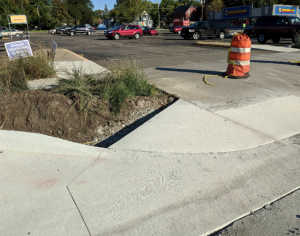 In continuing to ask about the Division Street road work, including the entrances/exits at Family Fare, Eco Gardens and Anytime Fitness, Northfield City Administrator Ben Martig commented on KYMN yesterday, "Based on driver movements in there, we realized they're kind of driving over the curb and issues so we need to widen that back out, so we're doing a change order to take out some of those curbs and then extend or widen the driveway a little bit to better accommodate traffic." He said, technically, it could work but they'd rather take care of it. City Engineer Dave Bennett said the dollars will come from the $64,000 contingency fund and he will share what that cost is once the City has reconciled with the contractor. Martig said they were really happy with the overall project, although, "We had to reject some concrete work due to cracking and scaling. The contractor will be fully responsible for that. So unfortunately that happens on projects sometimes where the material isn't just good enough but fortunately we have engineers out there looking out for the interests of the public." As for the landscaping, he said, "And as you know, we had some problems with some of the plants were very tall in certain areas where it probably wasn't the best design, I guess, as far as where we had some of those located. We're moving some of them around, replacing some of those plants, adding some different types of plants. We're going to reuse those plants and move them to some other city facilities." KYMN has been told they were warned by experienced citizens that those plants were not right for the area. Additionally, at next week's council meeting they will be adding another change order for the raised pedestrian crossing to smooth it down some. As for those bricks on the crosswalk at 5th Street, Bennett said the material and labor for the replacement is $15,000. Martig said those pavers were installed in 2008. They have been failing for some time as witnessed by the patchwork repairs. Martig said, "And in some of the other areas where we've had those pavers, like 6th and Division, we've seen a lot better experience with those. We don't know, was it a bad batch or is it just not as good a quality. So we're getting a quality brick replacement that we think will last longer." He said that was a planned budgeted item. His full interview is on kymnradio.net. I have pictures on kymnradio.net of the work which included ripping up all the parking spots in front of NAPA Auto Parts again. 
4th suspect charged in Greenvale burglary
An update on the home invasion in Greenvale Township. The fourth suspect, 22-year-old Donovan Tomas Egilsson has now been charged with 1st degree burglary along with his three alleged accomplices. His initial court appearance is Oct. 17, 2019. All remain in the Dakota County Jail except for 34-year-old Tony Miller of Montgomery. He posted bail. His court appearance is set for November 21. 
8500 pounds of garbage


Last Saturday 175 volunteers picked up garbage from eight sites along the Cannon River from Owatonna and Shields Lake to Northfield and Cannon Falls. Kevin Strauss of the Cannon River Watershed Partnership said groups found a bicycle, a gas grill, a portable DVD player, a truck tire, and bags of clothes at their sites. An estimated 8,500 pounds of litter was collected this year. Many cities, including Northfield and Faribault, donated dumpster space to help volunteers clean up area parks and river banks. Since its inception in 2009, over 2,450 volunteers have picked up over 156,300 pounds of litter from riverbanks, parks, and lakeshores in the region. The full press release is on kymnradio.net.