WASHINGTON, Oct. 14, 2019 – Kenosha Beef International, a Columbus, Ohio establishment, is recalling an undetermined amount of seasoned beef products that may be contaminated with extraneous materials, specifically metal shavings, the U.S. Department of Agriculture's Food Safety and Inspection Service (FSIS) announced today.
The seasoned beef items were produced on various dates from Sept. 20, 2019 to Oct. 4, 2019. The following products are subject to recall: [View Labels (PDF Only)]
Cases containing eight 5-lb. plastic bags of "TACO BELL SEASONED BEEF Taco and Burrito Filling" with use by dates of "L2 11/4/19" to "L2 11/18/19".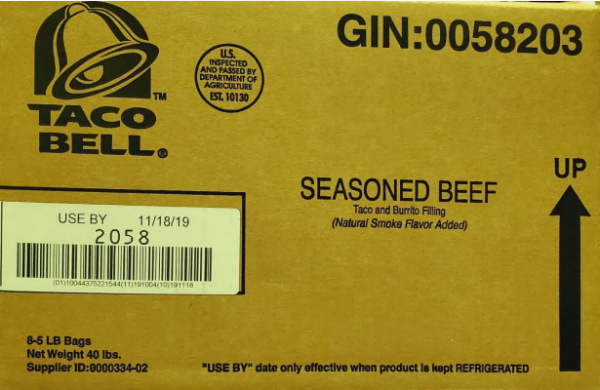 Please click on the LINK for complete details