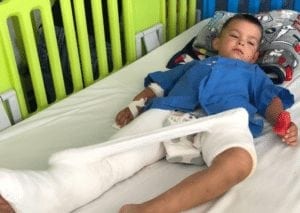 A young family starting their 2 week vacation in Costa Rica is now trying to get their son home on a medical transport.  I spoke with Grandpa Doug Grisim. He said his daughter Emmee and her family arrived at their host family's home on July 10th to enjoy time on the beach, in the parks and more but the very next day, nearly 4 year old Axel, fell and broke his femur.  Doug said, "he was able to get the medical attention needed and he was placed in, what's called, a spika cast".  
He is immobile for the next 5 weeks, having to lay flat all the time.  Doug said, "the hospitals in Costa Rica will not recast him so he could sit up and unfortunately if you can't sit up, you can't fly a commercial flight".  The medical transport cost is anywhere from $30,000 to $42,000 to get him to Rochester.  Doug said, "unfortunately the coverage that the family has through Blue Cross/Blue Shield does not allow for any medical payments when you're out of the country".  He added, "the doctors there tell us that he should be seen, of course by his General Practitioner, and Orthopedic Surgeon back here just to make sure that things were done correctly there and he can help up and have not have any after effects".  Grisim said the one comforting thing is the family is not in a hotel but with a host family that Emmee has stayed with before. There is a gofundme page and also, locally, Wells Fargo in Northfield, has set up a fund that would go directly to the family with no fees.  You can donate there under Emmee Belle Grisim Lopez. Doug said, "it's very humbling to know there's people who want to help out there and, you know, as much as we'd like to say that we don't need the help, we need the help".  Here is a link to GoFundMe.  A fundraiser is being held in Lake City on July 29th from 11am to 3pm at St. Mary's Church.  It's a Spaghetti Feed.  .  Axel's great grandpa is Ken Grisim, Northfield native, VFW, American Legion and Color Guard member.  Emmee is posting updates on Facebook including that Axel has eczema and may be having issues with the cast now.  
Witt Bros get wider driveway and Council okays ask for grant dollars on Transit Hub
The Northfield Council approved a driveway modification for Witt Brothers off 7th street at Division.  Due to the design of the reconstruction project, the City narrowed the auto repair's driveway from 33 ft to 21ft.   The change removes one parking space of 9 ft to allow for the wider driveway.  That leaves 2 stalls between Napa and Witt Brothers. Mike Witt said, at the open mic, that it was more crucial for them to have the wider driveway.  Council approved matching dollars for a grant from MnDot through Hiawathaland Transit regarding a Transit Hub infrastructure on the Q-block next to the Depot.  This would fund parking on city-owned land and paved driveway. Administrator Martig the project would be about $2.3 million.  MnDot would pay about $1.75 million with the local match about $500,000, there are some TIF funds available.  The remaining amount would be paid over 10 to 15 years.  The grant is due later this month. The vote was unanimous as transit is also part of Councils strategic plan.  Hiawathaland and Northfield Lines favor the idea for a Transit Hub which could also likely spur further development.  If the grant is awarded, work could begin in 2019. Mayor Pownell and Administrator Martig gave a full recap which is online at kymnradio.net.    
Vikla crowed 2018 Rice County Fair Queen
Last night, the 2018 Rice County Fair Queen was crowned.  19 year old Megan Vikla of Lonsdale received the tiara from 2017 Queen Lauren Wieber of Northfield. Vikla attends St. Olaf College studying Math and Studio Art. Megan has been in Girl Scouts for 14 years and is a lifetime member. She has also been in 4 H for 8 years. Her parents are Kelly and David Vikla.  Zoe Nassif of Dennison took the first attendant crown. The 17 year old will graduate from Randolph high school in 2019. She's been a member of 4-H since the first grade and is 4-H Happy Hounds president. She was named Miss Congeniality, an honor voted on by the contestants.