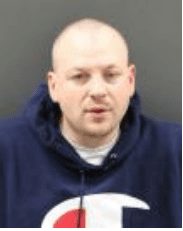 A Nerstrand man who fled the scene of a crash is facing multiple charges.  According to the criminal complaint, Faribault Police were dispatched to a crash at the intersection of 7th St. NW and Lyndale on Sunday.  A Ford pickup and a silver van had collided. The truck, with 3 women in it, was inoperable. They told officers that two men were in the van, they both immediately fled the scene.  The van smelled of marijuana. Inside was a backpack with a wallet identifying 32 year old Jesse Jeremy Bruley. Also inside were numerous narcotics including methamphetamine, oxycodone pills, nearly a gram of heroin, almost 7 grams of marijuana, and a number of prescription pills and $900 in cash.  Bruley, identified
as the driver, had a revoked license. He was found in the Burger King parking lot three hours later. He's charged with 3rd degree drug sale, felony 5th degree controlled substance, driving after revocation and fleeing the scene. Bail's been set at $30,000 with conditions. His first court appearance is October 16th.  
Utility rate study suggests increase
The City of Northfield had a Utility Rate Study done by Springsted and Associates.  Patty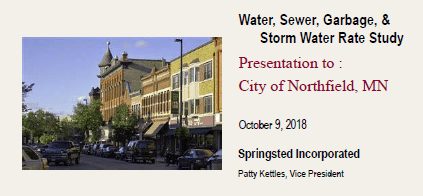 Kettles presented to council last night at their work session. There are four funds; Water, Sewer, Garbage and Stormwater.  Kettles estimates a 2 to 6% increase in costs of operation. As for rate increases to users, she suggested 1% for water and sewer, 4% for storm water and 0% increase in the garbage fund.  Administrator Ben Martig said this morning, "we're going to be looking at over the next 5 years, a sanitary sewer fund is about 1.75% increase in rate, we got storm sewer that's proposed to go up 5% per year and now that's one we've been seeing at 6%  so it's slightly less than what we've been seeing.  And then water fund we have about a 1% increase and the garbage doesn't have any impact at this time".  He said that translates to about a dollar increase per month.  That includes WWTP upgrades. He said the storm water fund increase is due to more regulations for water quality requirements including storm water ponds and their maintenance.  This will go back to council for adoption next week. Martig's full interview is on kymnradio.net. He also talked about the City's tax levy, the preliminary levy was set last month at 7%, that number can go down before final adoption in December.  One critical area of increase in the budget that's been suggested is for the Police Department, adding an Investigator and a Patrol Officer.  We'll have more on that tomorrow.  2 – 2018-10-09-Northfield Utility Rate Presentation PK
Nfld Schools implements new reading curriculum – tour of Greenvale on Saturday
It's no surprise that Northfield Schools are all about getting kids reading proficiently by the 3rd grade.  Superintendent Dr. Matt Hillmann said this year they're implementing a new reading curriculum in the three elementary schools. So far, he says, there's been a lot of positive comments.  After reading a book with the children, the students participate in an activity called Think, Pair, Share.  they turn to a partner and talk about what they've just heard based on questions the teacher has shared.  Hillmann said, "not only are they getting this great reading instruction they're also having a chance to improve their comprehension skills".  This is a daily 90 minute curriculum.  The child can choose any book, allowing them to learn at their best level.  Hillmann said they'll survey again in November. And a reminder, in anticipation of the $41 million School Referendum, tours of Greenvale Park are set for this Saturday morning from 10 to 11:30 and on October 29th from 7pm to 8:30pm.