Another arrest in Operation Sound of Silence.  Earlier this year, the Cannon River Drug Task Force, using Confidential Reliable Sources, set up three separate buys of psilocybin mushrooms with 21 year old Mark Johnson.  He was arrested just a week ago and is awaiting his first court appearance on November 13th. His dealer, 28 year old Joshua Alonzo Wingen, was just charged with 1st and 2nd degree drug sales related to the same buys of a total of 68 grams of the hallucinogenic mushrooms.  His initial court appearance is November 20th.
NPD continues search for Armed Robbery suspect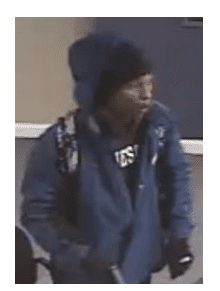 Northfield Investigators, along with the FBI, continue to work the case of the Armed Robbery of Premier Bank nearly two weeks ago.  Chief Monte Nelson said they're working a lot of angles, doing a lot of follow up, adding that the suspect left on foot but they do believe a vehicle was involved.  Nelson is asking the public to call if they saw a person and/or vehicle leaving the area in a hurry around a 2 to 3 block area.  Premier Bank at 112 5th St. E was robbed Saturday morning, October 27th around 11:30.  Call Northfield Police with any information at 507-645-4477. A picture and description of the suspect is on kymnradio.net.  Search Premier Bank.
Craig and Klobuchar in Northfield
The second time was the charm for Congressional Candidate Angie Craig on Tuesday.  She took the District 2 seat from Republican Jason Lewis by 5.5%. She visited Northfield last Saturday with re-elected Senator Amy Klobuchar who won her seat by more than 30%.  She spoke at the rally about setbacks and working hard to regroup for the common good, adding (as she introduced Sen. Klobuchar) , "there is no greater model in this state or this country of a service oriented official who is working for all of us than our senior Senator". Klobuchar
commented on the negative ads, in particular for Craig, "in nearly every ad, She Helped Lead A Business, and I'm like YES, she led a business and I think a lot of people that see this say, that's pretty cool that a women would lead a major business".  Klobuchar said Craig would bring that expertise to Congress.  DFL candidate Tina Smith, who filled in when Al Franken gave up his Senate seat this year, beat Republican challenger Karin Housley by a 10% margin.  And Tim Walz, took the Governor's seat, beating Republican Jeff Johnson by 11%. While Northfield remains overwhelmingly Democratic, the rural areas of Rice County are Republican.  
Dakota Electric "Spirit of Excellence" Award honors Randolph-Hampton Firefighter
Randolph-Hampton Firefighter Capt. Jake Toledo was honored this week with the 2018 Dakota Spirit of Excellence Award.  Dakota Electric Board Chair, David Jones, said that the award honors First Responders including Police, Fire and Paramedics.  Greg Miller, CEO of Dakota Electric added that they were pleased to donate dollars for much needed equipment.  Chief Kevin Whitson said the award is well deserved saying how he continues to better himself through additional training.  He also puts in multiple hours coaching his sons and being a member of the Council in Randolph.  Toledo was honored and grateful for the donation which will go to purchase new gear for auto extrication and grass fires.  This is the 2nd year of this award.