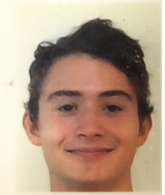 BCA UPDATE 1:51pm 7-1-19
**** UPDATE **** ALEXANDER HAS BEEN LOCATED AND IS SAFE. THANK YOU EVERYONE!
The Eagan Police Department is seeking assistance in locating Alexander Paul Dahlen Robles (date of birth 8-23-1998). On Tuesday, June 25th at approximately 3:00 PM, Alexander went for a walk from the 2000 block of Copper Lane in Eagan and hasn't returned. This is highly unusual for him. Alexander takes daily medication to prevent a serious medical condition. While he will communicate with strangers, he may lose track of his surroundings, get confused and may "zone out".
Alexander is 5'9", 150 pounds, brown hair, brown eyes with a slender/athletic build. He was wearing a grey sweatshirt, black jogging pants and tennis shoes.
If you have seen Alexander or have any information, please call the Eagan Police Department at 651-675-5700, call 911 or e-mail [email protected].