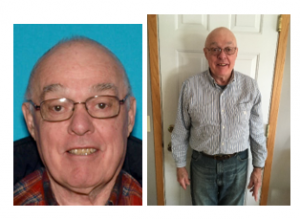 ---
MN BCA ALERT at 12:42pm
Cancel Missing Person Alert for John Michael Stone. He was located safe in Iowa. Thanks to all who helped look for him.
The Orono Police Department is looking for assistance to locate John Michael Stone, age 77. Stone was last seen at his residence at 8:30 pm on October 24th, 2019. Stone has Alzheimer's and may be lost or confused and unable to find his way home. Stone left home driving a 2018 white Ford Escape with Minnesota license plate CDS042. Stone is described as 5'09, 200 pounds, bald/white with shaved facial hair. He may be wearing jeans, blue/black flannel, tennis shoes and a baseball cap. If he stops for directions please do not give directions and let him go, try to stay with him until law enforcement can arrive.
If you know the whereabouts of John Michael Stone, please contact the Orono Police Department at 952-249-4700 or Hennepin County after hours at 952-258-5321.