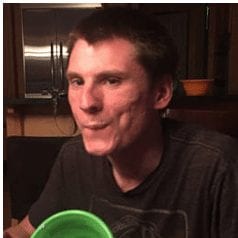 BCA reports at 2:43pm that Wallace has been found safe in Wisconsin.
The Blaine Police Department is seeking assistance in locating Yuri Wallace, 23, of Blaine. Yuri is a vulnerable adult who left his residence on his bicycle around 5:00 p.m., Wednesday, August 22. He did not have any of his belongings with him and does not have access to cash or other means of payment, although he does carry a wallet with his ID card. Yuri left his current residence once before and managed to travel all the way to Balsam Lake, WI. He is known to frequent campgrounds and wooded areas to avoid being noticed. Yuri has several cognitive disabilities and because of weather and his lack of access
to money, authorities are concerned for his welfare. He was last seen wearing black Caterpillar brand pants with reflective strips and possibly a navy shirt. He is riding a white framed Momentum brand fat tire bike with orange rims, pictures below. If you have seen Yuri or know of his whereabouts please contact the Blaine PD at 763-427-1212 or dial 911.