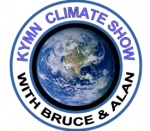 We reviewed the science, and I told my favorite story about politics, running for office, and the science of climate change.
The Science Redux 07 Aug 2019

The KYMN Climate Show with Bruce and Alan:
The KYMN Climate Show with Bruce Morlan and Alan Anderson is a once-monthly show that explores the climate issues in the news and then digs into the stories to clarify what the supporting science tells us about our changing climate and how we will have to respond to those changes. With diverse backgrounds, their pursuit is knowledge and reason about our changing climate. KYMN Climate Show will air the first Wednesday of the month at 11am.