By Teri Knight, News Director
A pair with perennial contact with police are back in jail. 27-year-old Jake Wingen and 32-year-old Lekeisha Hofbauer are charged with Felony 5th Degree Possession stemming from an incident on Tuesday. A Cannon River Drug Task Force agent spotted Hofbauer inside the Hy-Vee in Faribault. In the parking lot was Wingen, who had an active warrant. The pair had been in a van, driven and owned by someone else. Agents searched it and found just about a gram of methamphetamine, belonging to Wingen, and a needle. Hofbauer's backpack contained over six grams of meth. She's on a conditional release related to seven cases in the past two years. Hofbauer's court appearance is November 20, 2019 where she'll face this new charges and pleas to the seven other cases pending against her, one involving firearms. Wingen will appear on November 19. 
Sheriff Dunn's tips for deer hunters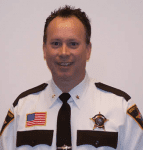 Firearms deer season opens tomorrow. Rice County Sheriff Troy Dunn instructs hunters that the first thing is safety: "…getting in and out of your stand. Walking to your stand. And tell people when you're going, where you're going and when you'll be home." He added that, before you shoot that trophy, make sure you know what's behind it: "Don't be shooting towards the roadway if there's traffic and know where your fellow hunters are." And be sure to wear blaze orange above the waist. As for trespassing, he says, make sure you have permission to go on someone's land beforehand. The sheriff's department works closely with DNR conservation officers, however there's only one for all of Rice County and, "they're already fielding complaints this week about people baiting deer this week, which you can't do." The sheriff's department fields far more trespassing complaints. Dunn is an advocate of deer hunting and will be out there hunting with his son and a buddy to help keep the herds to a manageable level. Check information from the DNR. 
Randolph FFA takes top honors at convention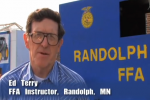 The Randolph FFA was recognized as being in the top 6% of all the FFA chapters in the nation at this year's convention. Ed Terry, Randolph's agriculture instructor for nearly five decades, said there is a 21-page application just to be considered! Terry said, "One of the other highlights would be that both Hannah and Jackson Neil received their American Degree. About one half of one percent of all FFA members in the nation ever attain it. That's the highest recognition you can get in the National FFA." The convention offers multiple opportunities for students to learn more about the agriculture industry, ag businesses and colleges offering ag degrees. Terry said, "As we go down the road we're really short of good, qualified agriculture employees within the entire industry, not just farming but the entire agribusiness industry." He said the field is diverse, especially with today's changing technology. The Randolph FFA's annual corn drive for Camp Courage is today. Kids are collecting corn or cash from farmers. And their major fundraising event is fruit sales. Terry said it's excellent quality fruit and other products. The campaign runs through November 14 with delivery on December 12. If you've not been contacted, you can call the Ag Office at the Randolph School at 507-645-4773. Terry was named Outstanding Ag Teacher of the Year this past summer.
Northfield Beyond the Yellow Ribbon hosts Veterans Day ceremony on Sunday
Northfield's Beyond the Yellow Ribbon committee is hosting a Veterans Day program at 2 p.m. on Sunday, November 10, 2019. The ceremony will be held at the Northfield Middle School, where a pre-ceremony reception with light refreshments and music will kick off the program at 1:30 p.m. The ceremony is open to everyone with an emphasis on local veterans and their families. This year's theme is "Iron Ladies: Defending Freedom" and will feature the contributions of local women veterans during their time in the service and currently as members of the community. The keynote speaker for this event is Doug Carr, who will share stories from the North Platte Canteen during WWII. The ceremony will also include patriotic music, presentation of the colors, and the ability to send heartfelt thanks to the troops this holiday season.