By Teri Knight, News Director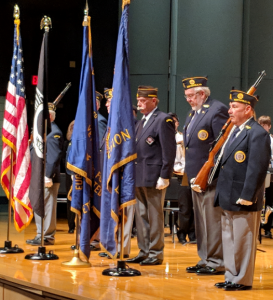 Yesterday, Northfield Beyond the Yellow Ribbon (NBTYR) hosted the 100th Veterans Day Ceremony at the Northfield Middle School. The Northfield High School band provided music with the Northfield Youth Choir singing the "Star Spangled Banner." Members of the Stanton Civil Air Patrol presented the Memorial Table. Special guest Doug Carr shared the history of the North Platte Canteen. Started in 1941 by a young woman named Rae Wilson, the townspeople pooled every resource to feed every troop train through town, an endeavor that would last for 54 months, involve 12,000 volunteers (and more beyond) and serve more than 6 million service men and women. Local American Legion Commander Michelle Haas Bornick highlighted service women, saying, "They're proudly serving in jobs that were once thought to be for men only. We know have women who serve in the infantry, in the calvary, on submarines, who hold the title of ranger, who fly with the Blue Angels, who are leading traditional male companies who have been chosen to lead combat commands and have earned the titles of general and admiral." Women make up 15% of the active duty military. Bornick thanked the men who encouraged women.
Three local women were highlighted with a video, "Iron Ladies: defending freedom," featuring Major Bethany McClellan, U.S. Air Force; Tammy Hayes, Maj. (Ret.), MN Air National Guard; and Kimberly Runningen, 1st. Lt. (Ret.), U.S. Army. Bornick closed the ceremony: "You are breaking ground for women who will serve after you. This nation owes you an unbelievable debt of gratitude. Thank you for your leadership and your tremendous source of patriotism. To all veterans, thank you just isn't enough. We often take for granted the very things that deserve our most gratitude. Because you stood up and said yes, I will serve too, our Nation is stronger, our freedoms run deeper, and our liberty is richer. God bless you for protecting this country. Thank you for protecting all Americans and may God bless each of you here today as He continues to bless the United States of America." This is the 100th Anniversary of Veterans Day. 
Dundas continues public hearing for Cannon Valley Makers tomorrow evening

The Dundas City Council meets tomorrow due to the Veterans Day observance today. They'll certify unpaid utility bills for just over $4,000. Those owing will have until November 21, 2019 to pay their bills and avoid additional charges. The public hearing for Cannon Valley Makers is continued to tomorrow evening. Meetings are held at Dundas City Hall and begin at 7 p.m. They are open to the public. Dundas Administrator Janelle Teppen will be in studio on Wednesday morning at 8:45 a.m. with a recap of the meeting.
Northfield Historical Society shares the many services they provide

Northfield Historical SocietyExecutive Director Cathy Osterman gave a presentation to Northfield City Council last week. NHS is required to give a mid-year report. They are contracted with the city to receive limited funding of $29,000 per year for three years. There are six areas of service, including digitizing and caring for the city's archived council meeting minutes. Those will become available online at a later date. NHS received a couple of large collections this year from the UCC Church, Northfield Hospital and Way Park, as well as items related to the failed attempt of the James Gang to rob First National Bank. Osterman said those items are now in the public trust. While the Northfield Area Fire and Rescue Service (NAFRS) was being renovated, their records were stored at the Northfield Historical Society where they also digitized many of those items. They've also been working to expand access to city records through the History Collaborative formed with local agencies. Additionally, the society is continually responding to research requests by agencies, organizations, schools and businesses. Mayor Rhonda Pownell commented on what a "fantastic job" the historical society is doing. You are invited to join the Northfield Historical Society. Go to northfieldhistory.org to learn more.