By Teri Knight, News Director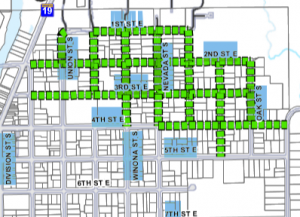 The Northfield Council Chambers filled with voices of residents who spoke out against various aspects of the 2020 mill and overlay project. In particular was the proposal of bump-outs on Third Street at Oak, Winona and College and bike lanes in which parking would be completely lost. Laura Baker Services Associate Director Sandi Gerdes said she's concerned due to space in the area of 3rd and Oak Streets for deliveries, adding, "We also have a number of buses and public transportation that stop at the end of our driveway and it already causes a backup in the street and if we are to add a bump out there, it will make it worse because it will make it more difficult." This intersection was an addition by councilors, not the engineers. Several Carleton College neighbors, some who've lived in the area for decades, spoke out regarding construction at Carleton College and the constant heavy truck traffic on roads not designed
for it. Paul Hager presented video and spoke against the further narrowing of Nevada and College Streets with proposed "cycle tracks" that would eliminate any parking on both sides of the street. Carleton Vice President Fred Rogers also spoke against the cycle tracks citing parking problems. One resident reminded council that people still need to drive, in particular some less abled and older adults that visit the nearby Weitz Center and UCC Church. Jim Pokorny took issue with the whole process saying that residents are always one step behind in the process.There was no action taken on this item. Mayor Rhonda Pownell commented this morning, "This is change, right, and it's difficult sometimes to know and understand how that would really impact you as a person and the broader community. And really trying to make our streets safe for all users is really important. The on-street cycle track provides, I think, the best sort of buffer between a bicyclist and a car but it does remove the parking. And so that's a really difficult toss-up that we're trying to figure out but we did receive a lot of input on that." City Administrator Ben Martig added that "it's just paint," thereby, they could change the bike lanes if it's not working. There will be a neighborhood meeting in early January; on January 7, 2020 council will order plans and specs with authorizing the bid at the end of that month. Click HERE to link to all the information presented. Residents can sign up for project updates from the City's website HERE then click on the icon at the bottom of the page. You can listen to Martig and Pownell's full interview HERE. 
A Northfield party serves up double-digit citations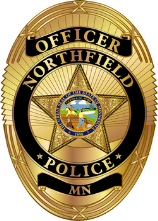 A party in the 700 block of Meadow View Drive in Northfield late Saturday night elicited 20 underage drinking citations, two citations for marijuana and a ticket for violating the Social Host Ordinance. The ordinance was passed in 2011. It's a misdemeanor with a maximum penalty of 90 days in jail and up to a $1,000 fine. Police Chief Monte Nelson said, they gave out just one social host citation in 2015 and 2016, two for 2017 and 2018 but three so far in 2019. The party was reported through the TIP411 app.
Recycle those old holiday lights
Thanksgiving is over, let the season of decorating for Christmas begin. The City of Northfield is encouraging residents to recycle. If you have non-working holiday lights or you're  making the switch to energy efficient LED holiday lights, you can recycle the unwanted lights at Ace Hardware on Water Street through January or any time during the year at the Rice County Waste site in Dundas. Our local garbage hauler, DSI, is asking residents to not put wrapping paper in your curbside recycling or in the large collection bins at grocery stores. Most wrapping paper contains foil, tape, bows and other items that contaminate the paper recycling. Consider reusable cloth bags, gift baskets, paper bags, or newsprint instead.