By Teri Knight, News Director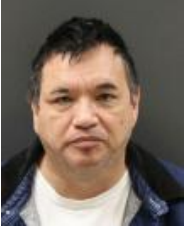 A Northfield man with multiple convictions for domestic abuse is charged with two counts of felony domestic assault. Just after 2 a.m. on Thanksgiving, Northfield police were dispatched to 420 Viking Terrace. Upon arrival, officers spoke with KMH who said her live-in boyfriend, 52-year-old Nicholas Glen Thomas had assaulted her. According to the criminal complaint, she appeared upset and had been crying and explained that her daughter had called earlier in the night and woke them both up. That made Thomas extremely angry and he began physically kicking KMH out of the bed. As she decided to go to her daughter's, Thomas blocked her and began punching her in the back of her head. She told officers that she previously had brain cancer and Thomas likes to target her head when he becomes abusive. She also stated that he had assaulted her four days previously with a toolbox and she'd sought
medical attention at the hospital. The charges carry up to five years in prison. Bail has been set at $20,000 with conditions. His court appearance is Dec. 11, 2019. Thomas has two previous qualified domestic-violence related offense convictions, multiple DWI convictions and has been deemed inimical to public safety. 
TZD kickoff includes passion, personal stories and stats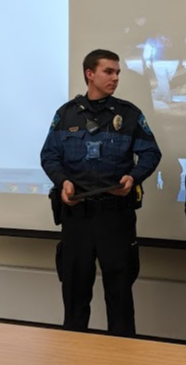 Last Wednesday, the Northfield Police Department hosted the kickoff to Toward Zero Death (TZD) enhanced Drunk Driving Enforcement which takes place now through December 28. There are five local agencies involved, the Sheriff's department and Northfield, Faribault, Dundas and Lonsdale Police Departments. Scott McConkey is the Southern Minnesota Law Enforcement Liaison from the Office of Traffic Safety. He told them, "When I think of what you folks are responsible for, actually, I get a little choked up because I know what it takes to be passionate about DWI." A former State Trooper, he shared that in the 1970s about 25,000 people a year were killed on the nation's roads in drunk driving related crashes. He said now there are about 10,000. He told the group they were the last line of defense: accountability. Northfield Sgt. Kevin Tussing, who heads up the TZD enforcement for Northfield, said between 2013 to 2017 Rice County had 26 deaths, five of those drunk driving related, and 89 serious injury accidents with 28 from impaired driving, adding, "Rice County has had a total of 1139 DWI arrests in that time period." Rice County Sheriff Troy Dunn presented the award for most DWI arrests to Faribault Police Officer Michael Shuda. He said, "Congratulations. Rice County Sheriff's Office along with the Rice County Safe Roads Coalition thank you for your 21 DWI arrests during 700 plus traffic stops for the 2019 grant year." Chief Andy Bohlen added, "Michael makes a difference all the time on the road, very proud of his efforts on DUI enforcement. Matter of fact, since this award, he had two more DUIs, so very appreciative of Michael, nice job." Rice County Attorney John Fossum then told his own personal story about his sister involved in a drunk driving incident decades ago coming home from college the night before Thanksgiving. She was a passenger in a vehicle struck by a drunk driver; the driver of the car she was in was killed. He said, "My sister spent her Thanksgiving at the hospital in Rochester, she had her Christmas dinner through a straw. And 40 years later, that still has an impact." He also thanked the group. Tussing reported yesterday that the preliminary numbers for last Wednesday [were] pretty quiet with just three in the county. He added that out of the 13 traffic stops HE  made in the Northfield/Dundas area, no one had been drinking. 
Stratmoen to be recognized for 40 years on school board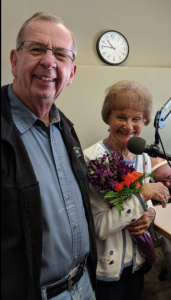 Northfield School Board member Noel Stratmoen will be honored for his service to the district and wider community. Superintendent Dr. Matt Hillmann said in January, "The Minnesota School Board Association will honor Noel Stratmoen for 40 years of service to the Northfield School Board. Noel is the fourth most tenured school board member in the State of Minnesota and anyone who knows Noel, is that he's an incredible listener, a very thoughtful and logical decision maker and it has been my pleasure to get to work with him over the last 10 years on the board." Hillmann said you also have to congratulate Lois Stratmoen too as she is also a major supporter of the district and the students.