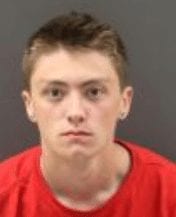 He was driving a stolen car with a warrant for his arrest and decided to flee officers. Now he's in jail.   19 year old Brandon Anthony Hendrickson of Owatonna led Faribault police on a chase through the City that began on Hwy 60 around Lyndale Avenue on Saturday afternoon.  According to the complaint, the officer did a quick plate check and discovered the vehicle reported stolen from Owatonna and attempted a stop with lights and siren but Hendrickson took off.  He led officers on a chase that reached speeds of 85 mph within city limits and ending on Babcock Avenue near 230th with speeds reaching
nearly 120 mph. Multiple officers arrived on scene. Hendrickson has a revoked license and a warrant out in Waseca County.    He told officers he ran due to the warrant and that he got the car from a friend but didn't know the friends last name. Adding that he didn't know the vehicle was stolen but then thought it might be. His passenger declined to speak. His first appearance is July 30th.  
Nfld man charged with sexual misconduct
A Northfield man is charged with criminal sexual conduct with a 14 year old.   According to the criminal complaint the teen was staying at a friends house when 19 year old Luis Miguel Contreras, drove to the location and had sex with the girl in his car on July 9th.  The girl told police that she thought they were going to talk but it escalated. She was scared, told Contreras that she was 14. He told her he was 17. He got her into the back seat…she told him multiple times that she had to go but he didn't stop.  Contreras told police that the girl said she wanted to have sex with him but he was hesitant because she was a virgin. He further told police that he'd drank half a liter of whiskey and she was the one who touched him. Contreras's first initial court appearance is July 30th.   He's charged with 3rd degree and 4th degree criminal conduct. The most serious charge carries up to 15 years in prison.
Nfld council to get WWTP Fire Investigation update
The Northfield Council will consider a driveway modification for Witt Brothers off 7th street at Division tonight.  Due to the design of the reconstruction project, the City narrowed their driveway from 33 ft to 21ft.  In a letter, Witt Bros. auto repair owners stated that they expressed repeatedly their desire to keep the 33 ft driveway, which is crucial to their business.  They are willing to sacrifice a parking space to gain back 9 ft. This will leave 2 stalls between Witt Bros and Napa. Also on the agenda is a presentation of the Fire investigation at the Wastewater Treatment Plant's biosolids building in May.  Meetings begin at 6pm and are open to the public. Mayor Pownell and Administrator Martig will be in studio tomorrow morning at 7:20 with a recap.
MS bikers rest up in Nfld
Over 600 MS bike riders took over Northfield yesterday afternoon.  They arrived from St. Peter to Bridgewater Elementary school where they camped out on the 2nd day of their 150 mile trip back to St. Peter raising dollars for Multiple Sclerosis.  This morning the riders left on their way to Owatonna, then Waseca, Mankato. They'll arrive back in St. Peter on Friday. The 2018 event has raised nearly half a million dollars.